Roots Picnic 2022: Durand Bernarr, J. Period, DJ Jazzy Jeff & More Celebrate the Culture in Philly
60,000-plus tickets were sold for the 15th annual festival of Black music on the eve of hip hop's 50th anniversary.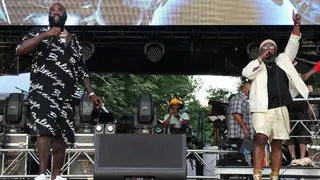 The 2022 Roots Picnic has returned after two virtual-only years, and music lovers were ecstatic about its return. A decade after The Roots brought their popular event to Penn's Landing in Philadelphia, the Picnic has quintupled in size, scope, and changed in location. Co-founders Tariq "Black Thought" Trotter and Ahmir "Questlove" Thompson and the incredible Roots Crew moved to the Mann Center in 2019, bringing almost 23,000 people to the campus of the Fairmount Park venue.

Despite the pandemic railroading in-person efforts, the 2022 installment boasts a stacked lineup of rising and veteran talent. With headliners Mary J. Blige, Jazmine Sullivan, Summer Walker, and Wizkid joining the iconic Philly band onstage, BET.com was on hand to be amongst the people outside, take in some colorfully captivating shows, and talk about who's doing what as we inch closer to the 50th anniversary of this thing we love called hip hop.
The first day of the fest found attendees creating a groundswell of legs and hips and bodies, bodies, bodies, as the Fairmount Park grounds had upwards to 26,000 people there and about 62,000 tickets sold across the weekend," according to Shawn Gee, founder of Live Nation Urban, the Los Angeles-based division of the concert promotion behemoth. Billed as a "once-in-a-lifetime moment" for music lovers, the chance to see The Roots with these headliners — namely Mary J. Blige for the first time ever — was worth the $225 ticket price of admission.
RELATED: Black Music Month: 5 Rising Male R&B Stars to Listen to in 2022

And while the nonmusical attractions such as the Podcast Stage, a video game arcade booth, and a World Series of Spades tournament, for this intrepid writer, it was all about getting up close and in person with those who were responsible for putting the butts in the seats. It took a minute to get into the space, but once inside, I walked past sculpture art by Murjoni Merriweather, flavorful smells by South Jazz Kitchen, and long lines for Rita's Italian Ice locations. Getting to the media tent by the TD Pavillion, I was instantly greeted by Illiana Thomas, co-founder of The Nucleus Creative Agency, who wasted no time in connecting me with rising superstar R&B singer-songwriter, Durand Bernarr, whose Sunday performance would become one of the highlights from the 2022 Roots Picnic.
The Cleveland-to-Los Angeles sonic investor has been on a tear ahead of the release of Wanderlust, his sophomore follow-up to Dur&. A high-level student of music and culture, the conversation turned to hip hop's Golden Anniversary, and I wanted to learn more about his thoughts on the subject. "I cannot believe that hip hop is that old and not old at the same time [laughs]," he said right as Alex Isley was taking the stage for her set. "It feels great to be a descendant of that culture — and let's be clear hip hop is a culture, not a genre — and I'm grateful to be a part of that." Bernarr, whose also leading our Pride and Black Music Month stories, has been racking up wins and his Roots Picnic performance served as both a love letter to Philly and the testing ground for his first headlining tour.
"I had a conversation with Quincy Jones and I asked him how did it feel to be so accomplished, and you know what he had the nerve to say? 'I feel like I'm just getting started.' [Laughs] I love that we, as in Black music and Black culture, are constantly in a state of becoming and arriving. I don't think I'll ever get to a point where I think that I have 'arrived,' because there is always room to grow." To be beautiful, booked, and Black in Philly is a blessing and for Durand, he recognizes the impact the City of Brotherly Love has had on his career. "Philly always [holds me down," he told me. "When I came here in 2016 for my first tour, [I] did not know that the Bad Boy Reunion show was on the same night as mine, right up the street, and I just knew I was going to be performing in front of five people [laughs]. But you know what? The show sold out [and] it was so overwhelming, so I am excited to come back to Philly and give them their just due."
As people were waiting for their favorites to take the stage, I caught up with the incomparable DJ J Period, whose Live Mixtape series with Black Thought has become one of the must-see moments during the Roots Picnic. JP has consistently put numbers on the boards from his own crafted projects (Respect The DJ: DJ Premier, March 9: Revisited) to working as part of the Kennedy Center, and us reconnecting on those festival grounds was good for the soul. After talking about family and what's new in each other's life, things instantly turned to how he planned to celebrate hip hop's 50th anniversary. "Honestly, as many ways as possible," he shared shortly after decimating the stage alongside Black Thought, Benny the Butcher, and Rick Ross.
"I've been talking to people about all kinds of events and other forms of tribute," he added. "I'm going to kick off a block party with the Smithsonian in August for their 'Hip Hop Anthology,' and deejaying out there to tell the story of hip hop in a way to set up the 50th anniversary, which is how I'm going to begin the celebration of this culture we all know and love." Hip hop has been and will forever be known to mankind as one of the greatest connectors in existence. This creation from the Boogie Down Bronx has changed how people talk, dress, challenge authority, and even sparked revolutions in their own homelands. "I go to countries all over the world and hip hop is this unifying factor where people can communicate across nations without speaking the same language because of this love of this music."
As the 2022 Roots Picnic festival's return marked another triumphant moment for Philadelphia and its Illadelph crew, the two-day event proved why hip hop is such a regenerative force of nature. Before heading out, I ran into Tone Stith, a singer-songwriter from South Jersey, and furthered the conversation about celebrating hip hop's upcoming jubilee. "Now that I'm home for a little bit, I'm planning to celebrate by putting a playlist together, go to my cousin's house, grill, and blast, A Tribe Called Quest, all day."
Blessed to be able to take something undervalued, overlooked, and often neglected by the status quo, and turn it into something beautiful, exceptional, and awe-inspiring — next year's 50th anniversary of hip hop will find everyone recognizing its power as a vehicle that remixed the world. I have been to a few festivals these past few months, but the Roots Picnic was so welcoming, where people old and young loved, laughed, and danced together for the first time in a long time.

It felt good to take my nephew and family around to witness such Blackness and be immersed in how hip hop has enriched our community. "I am happy that we were able to stay the course and allow hip hop to turn 50," DJ Jazzy Jeff told me right after finishing his mesmerizing turntable set with Rakim and Black Thought. "There was a point in time where they said that hip hop was not going to last. And so for this culture to take us around the globe, to provide for me and family, I'm going to celebrate it as it has celebrated me."
---
Kevin L. Clark is a screenwriter and entertainment director for BET Digital, who covers the intersection of music, film, pop culture, and social justice. Follow him on @KevitoClark.