Uzo Aduba Announces She's Pregnant, Expecting First Child With Husband Robert Sweeting
The actress debuted her baby bump at the 2023 Tony Awards on Sunday night.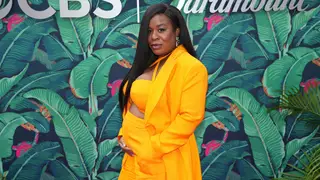 Uzo Aduba is about to become a mom!
The actress is a proud mommy to be with her husband, Robert Sweeting, as confirmed by PEOPLE. On Sunday night, Aduba flaunted her growing baby bump at the 2023 Tony Awards in New York City.
An insider told the outlet, "The happy couple is over the moon about their growing family and are excited to be parents".
While strutting down the red carpet at the awards show, Aduba unbuttoned her bright orange Christian Siriano blazer to let the world in on her surprise underneath. The expecting mom is not letting her maternity journey hinder her fashion sense. She took her look to the next level with David Webb jewelry while rocking Alexandre Birman shoes and a Judith Leiber clutch.
On Monday, The Orange is the New Black alum shared the news of her pregnancy on an Instagram reel while holding a white onesie with both hands while mouthing "Ta-da!". "What a blessing. My husband Robert and I are so happy to enter this next chapter together as parents. I am beyond excited", she captioned the post. "I get to be someone's Mommy! I know as the three of us continue to grown our only, ONLY goal will be to love you, little one. My goodness. Look what God has done."
Aduba and Sweeting exchanged vows during the crux of the pandemic in 2020 in a low-key ceremony in New York, as reported by the PEOPLE.
Last month Aduba took to social media in two social media posts on Instagram to reflect on her marriage journey while throwing a nod to the 1989 film When Harry Met Sally.
"For some of us, it can feel like we spend our whole lives waiting for our special someone. My heart, my love — I'm so happy my life started last year with you. You're the best thing that ever happened to me," she wrote.
The second post was made to celebrate Mother's Day as she paid homage to those who have played a motherly role in her life.
"Happy beautiful Mother's Day to all of the mothers out there. I honor all of you. I was so blessed to have a great mother who I am truly grateful to have had, here, for so many remarkable years. "God Bless each of you who do this job, both the born unto you and the chosen."