Hip Hop Awards 2023: Kaytranada's Top 10 Remixes That Transformed Songs Into Dancefloor Hits
Explore the Haitian-Canadian producer's most iconic remixes.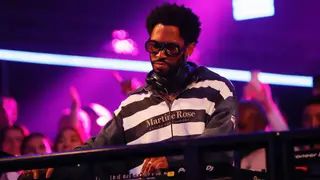 Born Louis Kevin Celestin, Kaytranada has carved out a distinct and influential niche in electronic and hip-hop music. With a knack for breathing new life into timeless tracks, Kaytranada's remixes offer a fresh perspective on beloved classics, infusing them with his signature blend of funk, soul, and electronic vibes.
Over the years, the Haitian-Canadian producer has earned a reputation for crafting irresistibly groovy beats that bridge the gap between dancefloor euphoria and laid-back vibes. If you're unfamiliar with his work, prepare to be swept away by the sonic adventures he creates with these classic remixes.
Erykah Badu - "Love Of My Life" (Kaytranada Remix)

Amerie — "Why Don't We Fall In Love" (Kaytranada Edition)

Common - "I Want You" (Kaytranada Edition)

TLC - "Creep" (Kaytranada's Creepier Edition)

Busta Rhymes and Janet Jackson - "What It's Gonna Be?" (Kaytranada Edition)

Jill Scott - Golden (Kaytranada's Life Living Edition)

Janet Jackson - "If" (Kaytranada Remix)

Kiss It Better (Kaytranada Edition)

Sade - Kiss of Life (Kaytranada Edit)

Teedra Moses - "Be Your Girl" (Kaytranada Version)

Watch the Hip Hop Awards 2023 on Tuesday, October 10, 2023, at 9 PM ET/PT on BET.