Jennifer Hudson's First Guest On New Talk Show Will Be Simon Cowell
It's their first sit-down convo since she placed seventh on American Idol in 2004.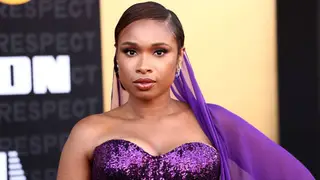 Singer-actress Jennifer Hudson will be reuniting with American Idol host Simon Cowell during the premiere of her new daytime talk show.
According to PEOPLE, it'll be Hudson and Cowell's first sit-down conversation since the singer placed seventh on the 2004 season of American Idol.
The series premiere will air September 12, coinciding with her birthday. The celebratory episode will be filled with exciting moments and surprises.
Hudson, 40, told Dallas news station KERA-TV in August that her dream guest for her talk show would be Simon Cowell and it would be "awesome" for the two to reunite.
"I think it would be so interesting," the EGOT winner told the outlet in August. "Idol was 18 years ago so why not? I think people will be interested who've followed my journey for 20 years. See us sit down and see us have a conversation. I think that would be awesome to do."
Hudson plans to use her voice to bring impactful stories to the forefront, according to a press release obtained by PEOPLE. The show will "be a destination to laugh, learn, and feel inspired.
Hudson announced the show in June via Twitter. "I can't believe I get to say this, but welcome to my show!!! Let's light up daytime beginning September 12th! Wait a minute that's my birthday!!"
In a statement to PEOPLE, she said, "People from around the world have been a part of my journey from the beginning — twenty years ago — and I'm so ready to join their journey as we sit down and talk about the things that inspire and move us all," Hudson said. "I have always loved people and I cannot wait to connect on a deeper level and let audiences see the different sides of who I am, the human being, in return."