'Who Gon' Tell Her?': Black Twitter Drags White Journalist For Saying Sha'Carri Richardson's Hair And Nails Are Signs Of Steroid Use
She made a similar allegation against Florence Joyner.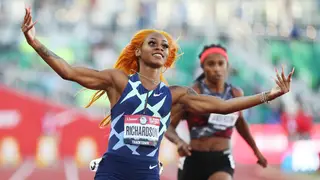 Clair Lehmann, a white journalist from Australia, is getting dragged on Twitter for suggesting that Sha'Carri Richardson's hair and nails are the result of steroid use. The sprinter, who recently made news after she was suspended from the U.S. track and field team for 30 days, barring her from running the 100 meter race in at the Tokyo Olympic games, is also known for her wigs and acrylics.
"Not sure whether the nails are real or fake, but in case you didn't know very strong nails & hair can be a side effect of steroid use," Lehmann, who runs Quillette, tweeted. She doubled down on her bad take with another one, about Florence Griffith Joyner: "Flo Jo, obvious drug user, had the nails. She died in her sleep at age 38 because that's what a lifetime of drug use does to the body (and why it's supposed to be banned from elite sports)."
Joyner was also well-known to wear acrylic nails, and died of seizure caused by a congenital abnormality of blood vessels in her brain called cavernous angioma, according to the New York Times. No drugs or alcohol were found in her system.

Lehmann's comments were motivated by the recent news that Richardson tested positive for marijuana — a plant that is legal in her state of Oregon — which led to speculation that she would be disqualified from the upcoming Tokyo Olympics. Richardson apologized for the infraction, and was given a 30-day suspension, which would clear her in time for the Games.

Here's how Twitter reacted to Lehmann's volatile tweets: