A Welcome New Tack Against the Achievement Gap
The Lone Star State's new education commissioner is out to make efforts to close the achievement gap as important as any other test score.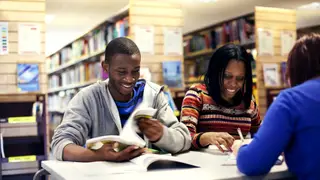 And last year, the Educational Testing Service teamed up with the Children Defense Fund to donate a $77,000 grant to the Newark school system in an effort to close the Black-white achievement gap there. Though there has been signs of progress, there's still a long way to go. And now an educator in Texas has come up with the latest — and seemingly very good — unorthodox approach to get Black students and white students on a level playing field.
Texas' new education commissioner, Michael Williams, is reportedly considering a system of ranking his state's schools that would take into account their ability to close the achievement gap. Though Texas has done better than several other states in the South when it comes to narrowing the gap, it's still at a point [PDF] Williams rightfully finds unacceptable.
 "In a state that is 60 percent economically disadvantaged and 60 percent Black and brown, we've got to be concerned about closing that racial achievement gap because indeed our demographics are changing," Williams told the State Board of Education on Thursday.
According to Texas Education Agency data, 92 percent of white students graduated on time in 2011, compared to 82 percent of Latino students and 81 percent of Black students, reports the AP. Only 84 percent of economically disadvantaged children graduated.
If Williams' plan comes to pass, schools will continue to be graded based on things like test scores and student gains, but the Houston Chronicle reports that Williams wants the achievement gap closure to be weighted more than the other metrics.
While it's still uncertain if and how Williams will actually implement his new attack on the achievement gap, it's great to see someone in his position stepping forward and acknowledging this is a serious problem, especially in a less-than-progressive state like Texas. Like with every affliction, the first step is admitting you have a problem. And the fact is that conservative states often have a hard time admitting that.
The views expressed here do not necessarily reflect those of BET Networks.
BET National News - Keep up to date with breaking news stories from around the nation, including headlines from the hip hop and entertainment world. Click here to subscribe to our newsletter.