Quincy Jones Had Some Choice Words About R. Kelly And Jussie Smollett
"Because I love him...he's stupid, though."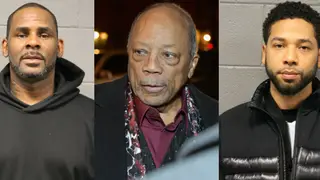 The arrests of proven sexual predator R. Kelly and Empire star Jussie Smollett has quickly become two of Hollywood's (and Chicago's) most notoriously pervasive controversies of the past two weeks leading 2019.
Smollett's sticky hate crime situation, where Chicago law enforcement accused the singer-actor of lying about the brutally racist and homophobic attack brought on by two MAGA hat-wearing perps, brought forth some conflicting views on the multi-layered case. Meanwhile, Kelly's surrendering arrest on 10 overdue counts of aggravated sexual abuse raises the question of just how much the public can trust the processes and ethical concerns of Chicago PD. Opinions, debates and heated dialogue is flying left and right above the controversies as fans and Hollywood alike struggles to find common grounds. But who better to weigh in on said controversies than the man who's seen it all in his 67 years behind the industry scenes, Quincy Jones?
TMZ caught up with the famed music genius at West Hollywood's Ysabel restaurant

And of course he knew Kelly's demons would eventually catch up to him. After all, Quincy said, what would you expect for a man who married the then-15-year-old Aaliyah? Q points to "power" and "insecurity," which we've seen run rampant in a case like Kelly's.

As for Jussie, he's known the 'Empire' talent since he was just a kid

Though he still has love for the now-36-year-old, Quincy acknowledges the idiocy behind the alleged stunt some believe that he pulled. "Because I love him, I met him when he was 4-years-old," Quincy said. "He's stupid though!"

There's no coming back from this either, Quincy added, because in this era of the Information Age, it's simply the way things are. "That's the way it works, man," he said. "Today the information goes so fast, you can't get away from it."

Well, does he have a point there?