Kanye West's 'Free Larry Hoover' Concert Was A Surreal, Smoke-Filled Extravaganza
The frenemies-turned-BFFs took to the stage together to raise awareness about Larry Hoover.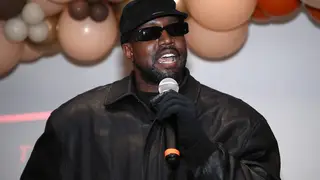 Arguably, one of the most engaging beefs in hip hop has been that between Kanye West — better known as Ye — and Drake. The pair's Donda versus Certified Lover Boy schism, coupled with a past few years of highly publicized issues, have made their "reconciliation" on stage together on Thursday, Dec. 9, one to watch — preferably from the comfort of one's own home.

Upon arriving at the hallowed Los Angeles Coliseum, the site of 1972's Wattstax concert and the upcoming 2028 Summer Olympics, I didn't know what to expect. Billed as a night where two frenemies put their bad vibes aside to help raise awareness to free imprisoned Chicago gang leader Larry Hoover, this whole thing came together in a way that resembled an episode of Empire.

Hundreds of paid concertgoers all descended into the space, not sure where to go, how to get there, yet all excited for what was sure to be a Yeezus level event. And with a budget north of $10 million, according to TMZ, it felt that the energy from the people was all about seeing their favorite two rap superstars extend the olive branch for a good cause.
RELATED: Lizzo Covers Erykah Badu's 'Tyrone,' Shoots Her Shot At Chris Evans and Drake

Yet, it would've helped if some of that money was spent on advertising the reason or importance behind supporting Larry Hoover, as I found myself walking ahead of a host of USC students who had no context clues about who the Gangster Disciple co-founder really is.

"Man, Larry Hoover is hella lucky to be getting Ye and Drake to perform for him," one student said. "Who is he again?" another asked.
I wouldn't have been your favorite neighborhood entertainment director if I left them hanging, so I shared some Cliff Notes and went about finding my seat at the Amazon-sponsored concert and streaming event. In fact, for those still unaware, Rap-a-Lot CEO and founder J. Prince orchestrated this detente to redirect those bad vibes towards freeing Larry Hoover from his alleged decades of inhumane conditions while incarcerated on a 200-year prison sentence.

As a result, hip hop's two genre-smashing titans agreed to perform together for the first time since 2016's OVO Fest.
The start of the show included Alice Marie Johnson, the prison rights advocate West's estranged (and newly single) wife Kim Kardashian helped free, appearing to deliver a sermon about what Larry Hoover has been through while incarcerated. The crowd of thousands, with more swarming in to fill the empty seats, were drawn by Johnson's words and were enveloped in a "Free Larry Hoover" chant, some still not realizing who they were yelling out for. (Neither Kanye nor Drake would directly mention the need to support Larry Hoover during their time on stage.)
After Johnson's speech, a noticeable delay in the production led to the Sunday Service choir kicking things off with a medley of songs, including a cover of Adele's "Easy on Me". There are no jumbotrons or projectors to help me or others see things up close, plus how the stage design is set up leaves much to the imagination since thick fog in a variety of colors obstructed views of the rappers during multiple points in the concert. So, you either see them or you don't, which wasn't the case during the live stream, and left me to wonder aloud if the reported $10 million production budget was worth it when I needed X-ray vision just to get a bead on where they were at on stage.
A few other points of conflict came with the "benefit" part of the benefit concert. As shared above, Ye and Drake mentioned little to nothing about Hoover, who currently spends 23 hours a day in solitary confinement and would require a Presidential pardon to be released. There were also no shout-outs to organizations such as Ex-Cons for Community and Social Change, Uptown People's Law Center, or Hustle 2.0, who were alleged to receive these funds raised by the concert.
The show also marked Ye headlining his first traditional concert in five years, and after covering Drake's "Find Your Love," the G.O.O.D Music CEO handed the reins over to Drizzy, who was clearly happy to be on the stage with his former-frenemy-turned-running-partner. "When we were walking through the archway it felt surreal, to be on stage with one of my idols as he runs through his catalog," the Certified Lover Boy rapper shared with the audience.
Since we're back outsiiiiidddeeeeee (for the most part) — Drake's set left many in the Coliseum underwhelmed. The few hardcore fans in my section went almost apes**t when Ye rapped the Aubrey Graham-penned "Find Your Love," thinking that the brouhaha was still on and the night's Certified Lover Boy would be a no-show. Instead, he did show deference to his latest LP and despite all of the CLB sweaters, Drake's set was not the one music lovers were expecting to see.

They wanted to hear the hits.

Ye primed the crowd with a plethora of goodies, reminiscent enough to make you miss the Old Kanye. And unsurprisingly, people began to feel the chilly 52 degrees (Cali) weather and left midway through "Way 2 Sexy". The plumes of smoke that blasted into the air throughout the show made it hard to see any of the performers, and the Sunday Service choir, who were mostly heard but little-seen, ended up being obscured for the majority of the time.
The biggest gripe came from the lack of actual advocacy befitting of the concert's titling. #FreeLarryHoover didn't incorporate any of Ye or Drake's advertorial magic on the jumbotrons. There weren't any helplines or QR codes that provided more information on how to support the O.G. Chicago gangster. While those at home saw a video reenactment of Hoover's life, we in attendance attempted to start "Free Larry Hoover" chants after Alice Marie Johnson's shining voice rang through the atmosphere. 
RELATED: Kanye West Dedicates Sunday Service To Friend Virgil Abloh

Even then, having two of hip hop's biggest stars unable to build momentum to get millions to pay attention to his story felt like a missed opportunity to advocate for the Black man who has allegedly suffered decades of inhumane conditions while incarcerated.
It was a surreal moment, for sure, witnessing Ye and Drake on stage together, looking like 2009 again, but the lack of effort between them would have possibly meant the difference between hundreds and hundreds of millions of people getting behind prison and criminal justice reform. And while I believe those watching at home were winners, it still remains to be seen if this historic moment will help Larry Hoover win his freedom.
Peep the "Free Larry Hoover" Benefit Concert setlist here:

Choir:
"O Fortuna"
"Ready or Not" (Fugees)
"Easy on Me" (Adele)
"Back to Life" (Soul 2 Soul)
"Ultralight Beam"

Ye:
"Jesus Walks"
"All Falls Down"
"Gold Digger"
"Touch the Sky"
"Stronger"
"All of the Lights"
"Black Skinhead"
"All Day"
"Mercy"
"Good Life"
"Flashing Lights"
"Say You Will"
"I Wonder"
"Find Your Love" (Drake)
"Runaway"

Ye & Drake:
"Can't Tell Me Nothing"

Drake:
"24" (Kanye West)
"Wants and Needs"
"No Friends in the Industry"
"What's Next"
"Life is Good"
"IMY2"
"Laugh Now Cry Later"
"Girls Want Girls"
"In the Bible"
"Way 2 Sexy"
"Knife Talk"
"God's Plan"

Ye:
"Hurricane"
"Father Stretch My Hands Pt 1" (ft. Sunday Service Choir)
"Niggas in Paris"
"Bound 2"
"Come to Life"

Ye & Drake:
"Forever"

Watch the two perform "Forever," below, and share your own thoughts with us on social media @BET.
Kevin L. Clark is a screenwriter and entertainment director for BET Digital, who covers the intersection of music, film, pop culture, and social justice. Follow him on @KevitoClark.