Janet Brings the Sexy Back for More Blackglama Promos
She still got it!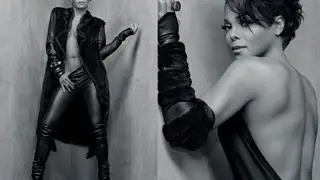 Janet Jackson is still smoking hot at 45 years old. Exhibit A: Her latest round of shots for fur company Blackglama.
The singer posed in her second year as the face of the company's prestigious "What Becomes a Legend Most?" campaign that has also featured icons including Diana Ross, Elizabeth Taylor, Cher and Audrey Hepburn. Miss Jackson made her mark showing off arm cuffs in a backless, tattoo-bearing dress and models her rock hard abs in a floor-length fur shirtless with leather pants just to name a few of the steamy shots.
"It's a very different vibe, this go around," says Creative Director Charles DeCaro of this year's shoot. "There's many narratives in Janet. This was that edgier, kind of cooler, modern and rock-n-roll."
(Photo: Courtesy Blackgama)