Lizzo Says She's Tired of the 'Influx of Disrespect' She Receives on Social Media
The Grammy Award winner questioned what she's doing to deserve the negative treatment.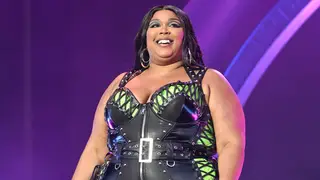 Grammy Award-winning singer and songwriter Lizzo  has had enough of the constant trash talking she's endured throughout her career and more specifically on social media.
In a since-deleted Twitter post uploaded on Thursday (May 25), the "About Damn Time " singer stated that "The amount of slander & hate I'm receiving on a daily basis is starting to confuse me."
The star went on to question, "What am I actively doing to get this influx of disrespect in my mentions?" noting that she was "trying to come on this app & enjoy social media like everyone else."
In another post, the 35-year-old wrote, "Anyways I been holding my tongue cus I don't wanna seem ungrateful but I've done so much cool sh*t these last few weeks just for my mentions to be about how fat I am &/or use me for political discourse.." She added, "tired of this."
Last week the entertainer delivered a stellar tribute to late rock and roll icon Tina Turner following her passing from natural causes on Wednesday, May 24.
However, after sharing a clip of the performance, the singer was yet again bombarded with a slew of negative remarks. Shortly after, the singer announced, "I'm locking my page again," before adding that she just wanted to share her tribute with everyone, "But I'm going back to protecting my peace."