Scholly App Helps Ease the Scholarship Search
Scholly helps undergraduates and graduate students find scholarships to pay for college.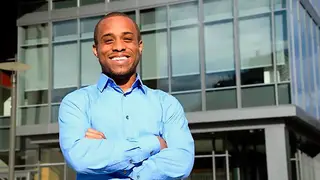 Getting accepted to college can be a dream come true. But finding out you can't afford to attend quickly becomes a dream crusher. Luckily, there are about $3.4 billion in free money available through 1.5 million different scholarships.
The hard part is finding them.
Good thing there's Scholly: a smartphone app that sifts through listings to find the scholarships that apply to specific individuals — both undergraduates and graduates.
Christopher Gray, 22, came up with the idea for Scholly in 2013 after winning $1.3 million in scholarships himself.
Gray went to college right after the start of the financial crisis in 2009 in Alabama.
"My mom lost her job, so I had to apply for a lot of scholarships. It took several months and the desperation gave a little motivation," Gray told BET.com.
According to Gray, out of 50 scholarships he applied for, he won 34 including, the Gates Millennium Scholarship, the Axa Achievement scholarship (which is given to one person in each state), the Walmart scholarship and the Lowes scholarship.
Gray decided he would use his skills to help others find money for school.
"The hardest part was helping students to find the scholarships they qualify for because a lot of websites give you a list of 1000 scholarships and you only qualify for like 5 percent," Gray said.
The struggle to sort through pages of grant opportunities led the then junior at Drexel University to come up with a tool to make the search easier through his 99-cent smartphone application.
"It took me several months to even find scholarships I wanted to apply for. This [app] is to help students find scholarships they apply for in minutes," said Gray.
With the idea in hand, it was time to set the plan into action. Gray teamed up with Bryson Alef, his co-founder and app developer.
Both Alef and Gray met after being awarded Coca-Cola scholarships. To put the app together, Gray said the two "developed an algorithm that aggregates and matches students with scholarships they qualify for based on eight parameters constructed on attributes like grade, state and need."
Scholly is user-friendly, according to Gray. "There's no sign-up process. We don't collect any personal information. Once you get the app, it's instant access," said Gray. "You can filter by deadline, amount and name. You can add deadlines to your calendar to get alerts and email a list of scholarships you want to apply for later," Gray said.
"I was honored because we're very young. They felt our product had a large impact and we're sustaining ourselves which is rare for startups in general especially student start up," said Gray.
Some might assume that getting a scholarship comes easier for African-Americans, but Gray believes otherwise. According to the entrepreneurship major, "I feel that [Black people having an easier time winning scholarships] is a stereotype. I say that because I've worked with a very diverse group of students over the years, and I found that there's just as much money available."
Gray added that "you have to put in the same amount of work and have the same credentials for these scholarships. I definitely think hard work is a factor."
Gray, of course, is a big advocate for young people to start up their own businesses.
"I think starting a company will put you on the forefront, and it helps you separate yourself. While you're a student you're in an incubation phase where you don't have to worry about a lot of things and you're in a network with people that want to help you," he said. "That's the best time to start a company. The job market is up in the air. Even if your business doesn't go as big as you want, you can put that on your resume and it separates you from other students. It gives leadership skills. To me, getting a job is riskier than starting a business because you may be out the door in two months."
BET National News - Keep up to date with breaking news stories from around the nation, including headlines from the hip hop and entertainment world. Click here to subscribe to our newsletter. 
(Photo: Courtesy of Christopher Gray)