Kadeem Hardison Shares Heartwarming Details About His Off-Screen Romance With Cree Summer!
"I had to pretend to be in love with Jasmine while being in love with Cree."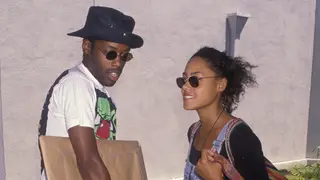 A Different World remains a cultural staple 35 years later!  From the eclectic style to the realistic storylines, the Hillman college kids gave us six seasons of pure gold and we are forever grateful. Don't even get us started about how invested we were to the Dwayne Wayne and Whitley Gilbert romance...
We have recently learned more behind-the-scenes details from the show, and we cannot stop from swooning. According to Kadeem Hardison, who played Dwayne Wayne, he had a heartfelt off-screen romance with his co-star Cree Summer. He detailed how his relationship began with the natural beauty that played Freddie Brooks on the popular sitcom.
In a snippet from an upcoming episode of TV One's Uncensored, Hardison shared, "Cree and I...from the time we met we became best friends."
The actor went on to say, "One night we went out and then we started kissing and the next thing you know she was telling me she's in love with me. And then I had to pretend to be in love with Jasmine while being in love with Cree."
When Essence asked him if it ever got awkward, the NAACP Image Award winner explained, "That wasn't even my concern at the time. Dominic [Hoffman], Jasmine's boyfriend at the time, did some spots on the show. It's like you have your work wife and home wife. But your home wife also happens to work with you. As much as that could have been sticky, they were so in love with each, it was never an issue. Good God, if you thought me and Darryl were close, he and Jasmine were inseparable. They brought out the silliness in each other."
ICYMI: During the year they dated, Cree Summer and Kadeem Hardison proudly showed PDA, slayed red carpets together, and even snuck a kiss in on the season-five opener of the show.
Aww, so sweet! We look forward to learning more about their youthful romance in the Uncensored season seven premiere, which takes place Sunday (Sept. 25).