Did Ben Simmons Just Dump Tinashe For Acting Too Much Like A Kardashian Just To Date Kendall?
*cue Nick Young confused meme*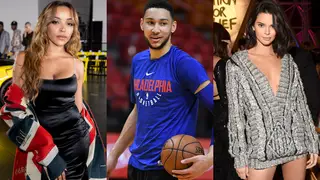 Why date someone who you think acts like a Kardashian when you can date an actual Kardashian/Jenner, right? At least that's what Ben Simmons appears to think. 
According to Page Six, the Philadelphia 76ers player is rumored to be dating Kendall Jenner, who was previously linked with Detroit Pistons star Blake Griffin. 
Many people found this news incredibly surprising since Simmons allegedly broke up with singer Tinashe for "doing Kardashian s**t," according to MTO News.
Despite Simmons' apparent dislike for "Kardashian s**t," he was spotted with the 22-year-old reality star and model on a lunch date at the Beverly Hills Hotel. 
After the news dropped, people on Twitter expressed their confusion with Simmons' actions

Even Tinashe's brother dissed Simmons for allegedly cheating on her

Simmons and Jenner's new relationship was blamed for team president Bryan Colangelo's rumored burner social media accounts

Simmons was warned to take cover from the impending curse on his game