Hip Hop Awards 2023: City Girls' Unfiltered Lyrics: 5 Tracks That Empower and Challenge Stereotypes
The Miami rap stars are nominated for "Best Duo or Group" at this year's ceremony.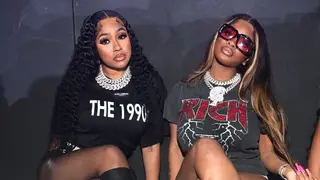 Yung Miami and JT, better known as City Girls, have carved out a significant space for themselves in the hip-hop world. Known for their unapologetic lyrics, the Miami natives have consistently delivered songs that empower and challenge stereotypes, particularly regarding independence, sexuality, and self-worth.
Their bold and candid approach to storytelling in their music has resonated with fans, especially women, from all over. The duo has mastered the ability to spark essential conversations through their music.
In honor of their well-deserved nomination for "Best Duo or Group" at the upcoming  "BET Hip Hop Awards" 2023, we're looking back on five records that showcase City Girls' commitment to empowering women and challenging conventional norms in hip-hop.  And don't forget to catch the "BET Hip Hop Awards" 2023, hosted by rapper, actor, and co-executive producer Fat Joe, premiering on Tuesday, October 10, 2023, at 9 PM ET/PT on BET.
"P—sy Talk"

While the title may be explicit, the track celebrates sexual liberation and women's agency. The song also features a spicy verse from fellow emcee Doja Cat.

"Jobs"

Young Miami and JT encourage their female fanbase to prioritize their ambitions and financial independence with their fiery 2019 single, "Jobs."

"Flewed Out" ft. Lil Baby

"Flewed Out" encourages listeners to embrace their confidence and unapologetically enjoy life.

"Act Up"

The ladies set boundaries and refuse to tolerate mistreatment in one of their signature records, "Act Up."

"Not Ya Main"

City Girls  refuse to settle for less in relationships and encourage women to demand respect with one of their earlier gems, "Not Ya Main."

Watch the Hip Hop Awards 2023 on Tuesday, October 10, 2023, at 9 PM ET/PT on BET.