Supreme Court Strikes Down Key Part of Voting Rights Act
The Supreme Court rules Congress must decide which states must get permission to change voting laws.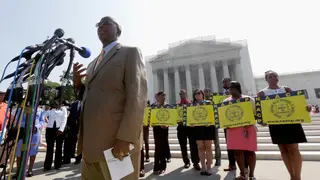 By a vote of 5-4, the justices ruled that Congress can redraw the map used to determine which areas of the country must get pre-clearance from the Justice Department before making changes to voting laws and procedures.
"Our country has changed, and while any racial discrimination in voting is too much, Congress must ensure that the legislation it passes to remedy that problem speaks to current conditions," Chief Justice John Roberts wrote in the majority opinion for Shelby County v. Holder.
Under the decades-old law, some or all of 15 mostly Southern states with a history of racial discrimination must seek authorization to make voting changes. Congress has by a bipartisan vote repeatedly reauthorized the Voting Rights Act, most recently in 2006, when President George W. Bush signed legislation to extend it for 25 years.
Civil and voting rights advocates spent much of the 2012 election cycle battling efforts by Republican-led states to change laws that would make it more difficult for African-American and other voters to cast ballots. Despite those efforts, Black voter turnout was for the first time higher than any other demographic.
Marc Morial, president of the National Urban League, said he's "more than disappointed" by the court's decision.
BET National News - Keep up to date with breaking news stories from around the nation, including headlines from the hip hop and entertainment world. Click here to subscribe to our newsletter. 
(Photo: Win McNamee/Getty Images)