Tiffany Haddish Responds To Rumors Beyoncé Made Her Sign An NDA
The comedian seems to be coming to some realizations.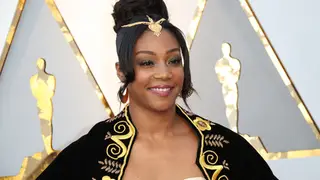 The Beyhive's been after Tiffany Haddish after she revealed a story that put Beyonce in a less-than-stellar light.
The Girl's Trip star recently told GQ about a Hollywood party she attended during which an unnamed actress bit Bey in the face. It launched an all out #WhoBitBeyonce investigation on social media.
Now, Haddish is responding, sort of. TMZ caught up with the comedian outside of a West Hollywood Mexican restaurant and asked whether she really signed a non-disclosure agreement issued by Beyonce herself.
"That ain't none of your business! I learned my lesson," she said. "I'm not talking to y'all!"
TMZ says numerous sources pointed the finger at Sanaa Lathan as the mystery biter at the shindig described as a 4:44 show afterparty. Lathan responded afterward disputing the claim. "Y'all are funny," she tweeted. "Under no circumstances did I bite Beyonce and if I did it would've been a love bite."
What do you think? Did Tiffany Haddish really sign a non-disclosure form? Let us know in the comment section below.