Taye Diggs Counts His Blessings, Including The Love He Receives From Apryl Jones!
"I feel really lucky."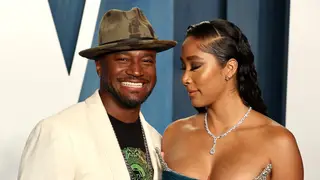 Taye Diggs and Love And Hip Hop star Apryl Jones may keep most of their relationship details private, but nonetheless, they've still landed on the list of our favorite couples. We all aspire to have the infinite joy, love, and appreciation that they share for one another.
Diggs, 51, was recently feeling the spirit of gratitude and took to Instagram with a wholesome message. Here's what he had to say! 
"As an adult, there are times in life where you can't believe what you are blessed with," the actor shared on social media. "I feel really lucky to have the career I have, coming from nothing and then getting to be where I am."
Diggs continued, "The fact that this woman is in love with me...that's how I know, praise you, lord Jesus or buddha or universe, 'cause somehow she's next to me," the All-American actor said of Jones, 35. 
It is clear that the duo really enjoys each other's company. The couple are often sharing fun moments from their union on social media.
After Jones responded to Diggs' affirmation with sweet touches, he ended the video by saying, "So, for all you people out there who don't think there's God or no higher being or no higher force...y'all I know there is 'cause someone's lookin' out after me, boy!"