BREAKING NEWS: R. Kelly Found Guilty On All Counts In Sex Trafficking Trial
The verdict comes after weeks of graphic testimony.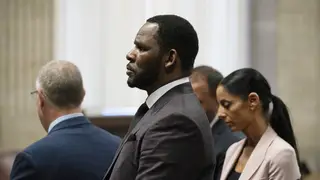 The verdict is in: R&B icon R. Kelly has been found guilty of sex trafficking by a Brooklyn jury.
According to CBS News, Kelly was found guilty on all nine counts of racketeering and sex trafficking in the high-profile case, which featured hours of graphic testimony from the singer's accusers and eyewitnesses to his behavior. The verdict was announced on Monday (September 27).
Wearing a blue suit, white mask, and carrying a folio-type folder while walking in, Kelly's demeanor in court was defeated throughout the day Monday as he looked hunched over before sitting up slightly straighter when the verdict was announced, CBS News' Nathalie Nieves reports.
As Judge Ann Donnelley asked the jury to be brought in, Kelly was completely still, closing his eyes occasionally as the verdict was read but seemed steady and did not fidget. Nieves reports Kelly was stoic throughout the proceedings.
The verdict comes just four days after the prosecution and defense presented closing arguments. A federal court in Brooklyn charged R. Kelly with racketeering predicated on criminal conduct including sexual exploitation of children, kidnapping, forced labor and Mann Act violations involving the coercion and transportation of women and girls in interstate commerce to engage in illegal activity.
Under US code, racketeering – a charge most often associated with organized crime – refers to any act or threat including bribery, extortion, or dealing in obscene matter carried out through coordinated illegal means. According to the New York Times, prosecutors said in the case of R. Kelly that the singer and his "inner circle" recruited girls and young women for sexual exploitation, and to produce pornography, for more than two decades and in multiple states. 
Seven men and five women were selected as jurors for the trial, which began on Wednesday, August 18. The racial makeup of the jury was not revealed.
The prosecution's case took 19 days as they brought 45 witnesses while the defense took two days, starting Monday, September 20, presenting five total witnesses.
This story is still developing...