Anita Baker Kicks Off Tour In Atlanta With Surprise Appearance From Usher
This is the R&B legend's first full tour since 1995.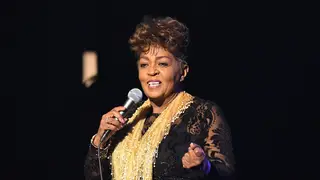 Anita Baker, the iconic R&B singer, kicked off her highly anticipated tour in Atlanta, Georgia, on a high note. The State Farm Arena was packed with enthusiastic fans, all eagerly waiting to see the legendary artist take the stage in her first full tour since 1995.
Anita Baker's performance was a masterclass in vocal prowess, with the singer effortlessly hitting every note and infusing each song with her signature style. Her renditions of hits such as "Sweet Love" and "Caught Up in the Rapture" left the audience in awe. But the real surprise of the night came when Anita was joined on stage by another R&B icon, Usher. The audience went wild as Usher made his way to the stage with roses. Baker said to the crowd, "My nephew never fails." The two performers launched into a stunning duet of "Same Ole Love," which had the crowd on their feet and singing along.
The concert was an unforgettable experience, with Anita Baker showcasing her remarkable talent and stage presence. And with the surprise appearance from Usher, it was a night that will be remembered by fans for years to come.
Anita Baker's The Songstress tour includes upcoming shows in New York, Los Angeles, and Chicago.