This Ain't Your Granddaddy's Civil Rights Movement
A new generation of young activists are protesting a nation that devalues their lives and challenging the Black leadership status quo.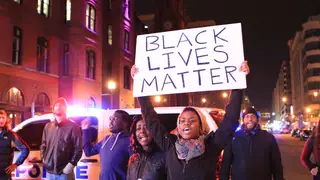 For two weeks, in the wake of the disappointing grand jury decisions to not seek indictments in the shooting and chokehold deaths of Michael Brown and Eric Garner, protesters in cities from Berkeley to Boston have marched day and night. "Black lives matter" and "I can't breathe" are their rallying cries. They've shut down city streets, blocked highways and held die-ins, all the while documenting their rage on social media with hashtags like #ThisStopsNow.  
Young African-Americans around the nation have embarked on a collective political awakening that began with the Brown shooting and a modern-day civil rights movement has been born. Will it last?
Eddie Glaude Jr., chairman of the Center for African-American Studies at Princeton University, believes it will and that a fundamental shift is taking place in Black America. The protests may have been fueled by the police-involved deaths of Brown, Garner and other African-American men and the desire for police and judicial reforms, but there are other factors at work, he says.
"This generation is saddled with student debt and lives in communities that have been thrown into crisis by the 2008 economic downturn. Many voted for the first time in 2012 and for an African-American president, so they've come of age in the midst of this contradiction," Glaude told BET.com.
And, he added, although they seemingly have had more opportunities than previous generations, they are in some ways more vulnerable.
A group of young activists met with President Obama the day before the Garner grand jury announced its decision and shared what it's like to be Black in an America that seemingly does not value their lives and criminalizes them from childhood before they "even have a chance to turn into something," Ashley Yates, a Ferguson resident and co-founder of Millennial Activists United, told reporters in a conference call. Their Oval Office meeting also was an affirmation that their voices are being heard.
That same day, they joined the president in a discussion with Vice President Joe Biden, Attorney General Eric Holder and several community and civil rights leaders during which administration proposals such as a plan to request funding for 50,000 new body cameras and a taskforce to examine police practices were announced.
The young leaders appreciated the magnitude of their meeting with the president of the United States and this one in particular, whose election noted Dream Defenders co-founder Philip Agnew was made possible because of decades of organizing and unrest to force change. But for it to mean anything, he said, there has to be some meaningful policy.
"We and people around the country are going to continue to take to the streets, we're going to continue to disrupt the daily order and ensure that business doesn't happen as usual until something happens for the people in our communities and we see some meaningful reform and clear indications from not only the president's office, but from governors, mayors, and police chiefs and officers around this country, that Black lives do truly matter," Agnew told reporters.
They also want the nation's first African-American president to use his "power and voice and influence" to highlight the fact that a racial problem exists. "He's experienced some of the same issues we're facing today," said activist/rapper T-Dubb-O.
For Yates, progress will be measured in the form of "quality-of-life tangibles." That means being able to refresh her browser "after 28 hours and not see yet another headline about a Black unarmed citizen was gunned down at the hands of those who are supposed to protect and serve us." Parents will no longer have to have conversations with their children about "wearing a hoodie or where then can and cannot go at night in a supposedly free country." The police won't constantly pull her over because they don't believe the new car her father bought her could be hers.

A couple of days after the White House event, National Action Network president and MSNBC host Al Sharpton and a group of civil rights leaders announced a Dec. 13 march in the nation's capitol to protest police violence.
Some see it as more ego-driven and attention seeking than an effective tool. In Twitter posts, Yates recalled how Sharpton had praised the young leaders' work in remarks at the White House, even though he's never joined their protests or attended any action planning sessions and unlike Biden, Holder and other officials, had "not a single word" to say to them when the meeting was over.
A few tweeters chastised her for "airing dirty laundry," but according to Glaude, her "open criticism was the proverbial shot over the bow." The point Yates was making is that Sharpton cannot claim them after showing no substantive interest in the work they've been doing.
"Whatever you say about this generation, they know when people are trying to play a game on them," Glaude said, adding that in his view the march is "an attempt to contain and constrain that energy to kind of fit it within what we might think of as traditional models of black political behavior and performance."
Young activists are also skeptical of the current crop of civil rights leaders and elected officials and feel a "deep-seated frustration that the hell that Black communities are catching has happened on Black people's watch."

Quoting activist and educator DeRay McKesson, Glaude said that they want "low ego, high impact." The early days of the Student Nonviolent Coordinating Committee, and the democratic model that Ella Baker cultivated that resulted in young African-Americans working together and making collective decisions instead of relying on one charismatic singular leader, is the sort of example the Princeton professor hopes they'll follow.
"They're engaged in militant civil disobedience. It's not simply a performative march where people come on stage, give their speeches and go home, where you have this kind of cathartic experience but don't know what the deliverables are," Glaude said. "These young folk are putting pressure to bear on the levers of power and when people tell you that nothing good is going to happen from it, they're not telling the truth."
BET Politics - Your source for the latest news, photos and videos illuminating key issues and personalities in African-American political life, plus commentary from some of our liveliest voices. Click here to subscribe to our newsletter. 
(Photos from left: AP Photo/Seth Wenig, Muhammed Bilal Kenasari/Anadolu Agency/Getty Images, AP Photo/Julio Cortez, Scott Eisen/Getty Images)