Memphis Rapper Gangsta Boo Found Dead
The member of Three 6 Mafia, born Lola Mitchell, was 43 years old.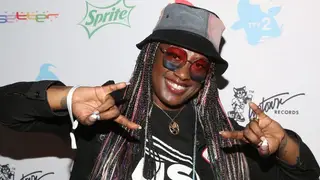 Southern rap pioneer Gangsta Boo passed away at the age of 43, according to Fox 13 Memphis. Born Lola Mitchell, Gangsta Boo was discovered dead on January 1 at 4:00 p.m. local time. Her cause of death was unknown at the time of publication.
DJ Paul K.O.M., from Three 6 Mafia, posted a photo of her deejaying in tribute, followed by tribute comments from Lil Jon and 2 Chainz. 
Gangsta Boo started her rap career when she was 14 years old, and then joined Three 6 Mafia two years later, staying as a member for six years. Enquiring Minds, Boo's 1998 solo debut, peaked at 15 on the Billboard Top R&B/Hip-Hop Albums and 46 on the Billboard 200. "Where Dem Dollas At!?" was the album's unexpected hit. Both Worlds *69, Boo's second album, peaked at eight on the R&B/Hip-Hop chart and 29 on the Billboard 200 in 2001. Enquiring Minds II: The Soap Opera was her 2003 third album. 
"I would honestly say that I have to admit, respectfully and humbly, that I am the blueprint. I hear my cadence in a lot of men and female rappers. It's hard to f– lie to myself and says, "Oh wow, she's from New York but she raps like she's from Memphis. Oh wow, this person is from f– wherever, but they rap like they are from Memphis." Because I'm not talking about anybody in particular, but my sound is a Memphis sound. It's a Gangsta Boo sound, it's a Three 6 Mafia sound."
She continued by saying, "I am the blueprint and I wear that badge proudly as f–," she said. "I used to run away from it. I used to didn't want to even give myself flowers because I've been so low-key and humble, but I'm on some f– that s—. It's time to claim what's mine. I'm one of the main b–. And it feels fun to still be able to look good and be relevant in a place where I don't have this million-dollar machine behind me and I have all my natural body parts, no shade to the ones that don't. But it just feels great to stand in yourself and look in the mirror and be like, "Wow, you did that." And not sell your soul and go to bed at night with a smile on your face. Because I don't have any pressure."