'CBS Reports – Trayvon Martin: 10 Years Later' To Revisit Killing of Black Teen That Changed History
BET, CBS News Streaming and the Smithsonian Channel are partnering to take a new look at the Feb. 2012 shooting that continues to echo today.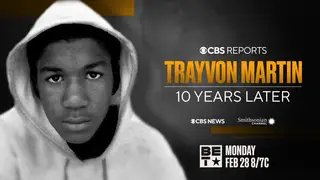 The death of Trayvon Martin for some may seem like a lifetime ago. However, that may be because, since that fateful day, Feb. 26, 2012, so many other high profile cases of the deaths of Black people at the hands of vigilantes and police have become, although certainly not new, seemingly more prevalent with the modern atmosphere of news and recordings.
BET is taking a look back at the incident and what has transpired since his death. A one-hour special on Feb. 28, in partnership with the Smithsonian Channel and CBS News Streaming, will address race and racism in America. CBS News correspondent Mark Strassman, one of the first journalists to tell the story of Trayvon's death, returns to revisit the event that set the modern social justice movement in motion. CBS This Morning's Gayle King will host the special.
"For me, it seems like it's a short period of time because it's-- the pain is still fresh. The hurt is still fresh," Trayvon's mother, Sybrina Fulton told King in an interview for the special. The disappointment and sadness is still fresh. So, it seems like it happened recently. And I have to remind myself that it's been ten years."
Martin, a 17-year-old Miami high school student, was visiting with his father in Sanford, Fla., when he encountered George Zimmerman, a neighborhood watch volunteer. Martin was on his way back from buying a pack of Skittles at a nearby store. During a scuffle with Zimmerman, who suspected the teen of being a burglar, Trayvon was fatally wounded.
The case remained obscure until a Howard University law graduate noticed that an article about the incident was posted on a Howard U online bulletin board. From there, a Change.org "Justice For Trayvon" petition on Change.org emerged, which now has more than 2 million signatures calling for the prosecution of Zimmerman.
From there, the case mushroomed into a national reflection, forcing Americans to question if Black people, given other deaths ranging from Emmitt Till to Sean Bell, have been systematically denied justice. Zimmerman was acquitted after one of the most high-profile trials since the O.J. Simpson case.
Since that time, organizations like the Dream Defenders and Black Lives Matter has risen to bring awareness to justice issues regarding Black people, particularly in cases of police violence. But many other cases, including those of Breonna Taylor and George Floyd, continue to be at the center of the issue, which remains unresolved and debated.

"It's hard to have to raise your children by a different standard," Valerie Jarrett, who served as a senior adviser in the Obama Administration, told Strassman. "To tell them that if their white friends are goofing around and talking back to the police, that they don't have that luxury. That they have to behave differently simply because they're Black."
Jarrett is joined on the special by attorney Benjamin Crump, who has represented dozens of the families of victims of police-involved deaths; L.A. Lakers forward LeBron James; Black Lives Matter co-founder Opal Tometi; and Grammy-nominated recording artist Fat Joe, among several others giving their perspectives on where the nation is a decade after Trayvon's death.
CBS Reports – Trayvon Martin: 10 Years Later airs at 8 p.m. Feb. 26 on BET.