Zendaya Discusses Collaborating with Angus Cloud Following His July Death
The actor's mother, Lisa Cloud, also recalls her son's final days in a new interview.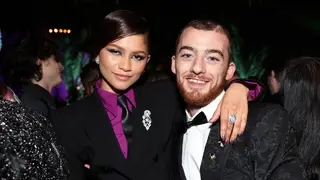 Angus Cloud's final days are being remembered by those who knew him best. The "Euphoria" star died suddenly from acute intoxication caused by an overdose of drugs nearly two months ago. He was 25-years-old.
In a new interview with People, Cloud's family and co-workers, including Emmy Award-winner Zendaya, recalled working with the emerging actor in an email statement.
"He felt like a little brother instantly; ironic because we played characters with the exact opposite dynamic," the actress, who portrays teen drug addict Rue in the show, wrote over email.
"I'm lucky because I got to experience the most beautiful parts of him. I got to watch him create, and I got to watch him discover the fact that he was an actor. A damn good one at that, and as many times as I would tell him or compliment his performance, I don't think he ever truly believed it," she added.
In his final days, Cloud's mother, Lisa Cloud—who maintains "he didn't kill himself"—shared that her son had been mourning his father's death, Conor Hickey, but he was noted to be in decent spirits.
The entertainer had spent the day before his death moving furniture with his uncle and doing various creative projects like painting a cardboard canvas and spray-painting a yellow skateboard. Cloud even spray-painted a memorial for a friend who died from a fentanyl overdose six years prior.
That night before he was found unresponsive, Lisa remembers hugging her son before bed. "I love you, mama. You're the best," she recalled him telling her. "I'll see you in the morning."
Cloud was discovered on the streets of Manhattan by Casting director Eléonore Hendricks. His character Fezco, the tender drug dealer, was "supposed to die at the end of the first season," show creator Sam Levinson revealed in his first public statement since Cloud's death. "But, I loved him so f—king much," he added.