D.C. Government Worker Charged With Shooting 13-Year-Old Boy
Jason Lewis shot and killed Karon Blake after the child was allegedly breaking into a car.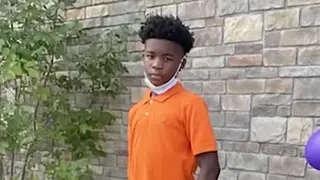 A Washington, D.C. government worker has been charged with the fatal shooting of a 13-year-old child named Karon Blake.
WRC reports from court documents, in the early morning hours of Jan. 7 in the Brookland neighborhood of Washington, D.C., a group of "young men" were using flashlights and "going into" cars. Three cars on the block had broken windows. Jason Lewis, 41 and also Black, told police he exited his home and said to the group, "Hey! What are y'all doing?" Lewis then reportedly fired a shot at a getaway vehicle.
Metropolitan Police Chief Robert Contee said "at some point" Karon Blake ran toward Lewis but it's unknown if Blake knew he was going in Lewis' direction. "It's 4 o'clock in the morning; it's dark out there," Contee explained. "And, as we learned through the investigation, again, what was initially described to us, there were some discrepancies there as we went through our investigation. The initial shot being fired at the getaway vehicle was not part of the initial discussion we had with Mr. Lewis."
The arrest warrant states Lewis fired two shots with his registered gun in Blake's direction. Blake is then heard in the surveillance footage saying several times, "I'm sorry," "Please don't," and "No" numerous times. Blake also yelled "I am a kid" and "I am only 12." Jason Lewis performed CPR on the child but he would later die at the hospital.
Jason Lewis turned himself in and has now been charged with second-degree murder. Lewis' attorney said in a statement: "Mr. Lewis maintains his innocence. While this is certainly a tragedy, once all the facts are heard, I believe that a jury will find that there was no crime here."
The statement continued: "Mr. Lewis has dedicated his career to mentoring and supporting youth in the District of Columbia, which only adds to how distraught he is over the death of Karon Blake. Mr. Lewis and his family offer heartfelt condolences to Karon's family and other loved ones."
Lewis, who is a DC employee for the Department of Parks and Recreation, has been placed on administrative leave and a judge ordered him to be held without bond.