'Abbott Elementary' Star Tyler James Williams Says Lack of Black Teachers Inspired Him to Play One on TV
The Emmy Award-winning actor is teaming up with the W.K. Kellogg Foundation to help fight for education.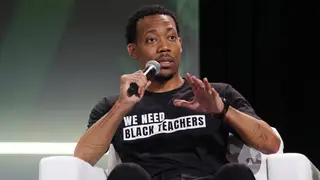 Since its debut, Quinta Brunson's critically acclaimed Abbott Elementary has sparked a lot of conversations around education but more specifically the presence or lack thereof of Black educators in classrooms.
While chatting with Complex about his work with W.K. Kellogg Foundation, the series's star Tyler James Williams revealed that he too had never had a Black teacher, so he decided to play one on television.
"I remember seeing that tweet and I remember realizing I did not have one at all," he said of a Twitter post that asked, "When was the first time you had a Black male as a teacher?"
He continued, "I had never encountered a Black male educator in any of my tenure in my educational experience, and that was incredibly unfortunate. And I thought about what the difference would be in my life if that had been the case.
Williams noted that he also modeled his Abbott character  "Gregory [Eddie] off of all of the Black men in my life. He's my father, he's my grandfather, he's my uncle, he's my brothers." The star said he hopes his role will inspire more young Black men to pursue a career in education. "I think it's very clear: if you can see it, you can be it. We know that at this point."
He added, "Hopefully the success of Abbott leads to more of that, more people who see this and go, "Oh, I can do that." I remember that happened to me as an actor when I saw somebody who looked like me and I went, "Oh, I think this is something that I can do." Hopefully, that is the case. The more we show it, the more people will gravitate to it.