Grandmother Who Brutally Murdered Granddaughter Gizzell Ford Gets Life in Prison
Helen Ford attempted to say the 8-year-old threw herself around.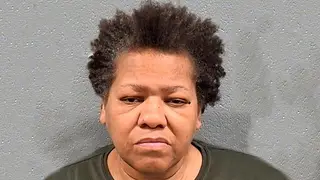 The Chicago grandmother who brutally beat her 8-year-old granddaughter to death was sentenced to life in prison on Wednesday, reported the Associated Press.
Helen Ford, 55, was found guilty of first-degree murder for the 2013 torture killing of Gizzell Ford. Gizzelle's diary was used in the case due to the graphic descriptions she gave of the abuse she endured until the end of her life. 
"I hate this life. I really think that I'm a jerk," she wrote. 
Cook County Circuit Judge Evelyn Clay delivered the sentence by citing the family's description of Ford as a mother figure who could not say "no" to family members in need.
"No, Helen Ford did know how to say no," Clay said. "She did know how to say no to Gizzell. No water. No food. No sleep. No praise. She did not say yes to the basics requirements of human care."
During the five-hour long sentence hearing, Ford took the witness stand and described how she took care of Gizzelle and two other children. Ford claimed Gizzell would grow angry at her father, who suffered from chronic degenerative disease. Ford eventually attempted to talk about Gizzell "throwing herself around" until she was cut off by Judge Clay.
"Miss Ford, enough. Enough," Clay said.
In the trial, prosecutors alleged Gizzell suffered from kidney failure before she was beaten to death because of her lack of food and water.  
When Ford was found guilty in March, Judge Clay said Gizzell's body "looked like it had been pulverized from head to toe … Her treatment [of Gizzell] was evil."