Exclusive: La La Anthony Discusses New Starz Series, Working With Issa Rae On A Horror Movie And Upcoming Kenya Barris Film Debut
She also opens up about 'BMF' season 2 and being a mom to a teenager.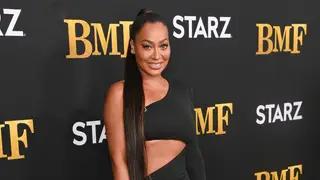 If it's one thing we know about La La Anthony, it's that she's about her business and loves to get involved with all types of special projects. And in 2022, that's no different.
The actor and TV personality is currently lending her talents to a docu-series, movies, and an ad campaign – all of which she discussed with BET.com during a recent interview. One of the most talked about efforts she's currently working on is The Case of Cyntoia Brown, a Starz docu-series based on the legal plight of Cyntoia Brown-Long, a sex-trafficking victim who was exonerated for the 2004 killing of Johnny Allen, whom she says tried to coerce her into having sex.
The series is based on Brown's own published written testimony, Free Cyntoia: My Search for Redemption in the American Prison System as the 34-year-old has also been tapped as an executive producer on the project. It's something Anthony notes is extremely important in telling her story with the utmost accuracy.
"When you have the person you're telling the story about as an executive producer, it makes the job so much easier," says Anthony. "She can provide us with endless material, she knows exactly what she was feeling and thinking through different times and we can capture that and really bring her powerful story across."
For the project, La La partnered with 50 Cent, who will also serve as executive producer under his G-Unit Film & Television, Inc. company. She says their successful Power partnership, among other elements, led her to bring the new project to him.
"I had to partner with someone I trusted. This story is too important and too delicate and has to be told the right way," Anthony explains. "I've been friends with him for 17 years, we did amazing things with Power and now I'm on BMF. We've worked together for so long and he's a person I trust through and through."
Speaking of BMF, Anthony is set to appear in the Starz series' second season, which drops in January, and says she's excited for everyone to "fall in love" with her character. Additionally, La La reveals she's working on a Kenya Barris-directed Netflix comedy movie titled You People that features Gabrielle Union, Eddie Murphy, Jonah Hill, Nia Long and Lauren London, among others, set to hit the streaming platform in early 2023.
"It's [Barris'] directorial debut for a movie and he asked me to be a part of it. I was like, say no more, what day do you need me? I'm there," she says. "It's an incredible cast. I still had a moment where I was like, 'I'm in a movie with Eddie Murphy. This is the next level right here.' It was an incredible experience and I'm forever grateful to Kenya for trusting me and allowing me to be in the movie."
La La is also in the midst of working on the Universal Pictures film Juju, which she's teaming up with Issa Rae to executive produce for. According to Deadline, the horror comedy is based on an original concept by ShadeRoom founder Angelica Nwandu, however, details about its plot have been scarce. Anthony tells us that the script is still being tweaked, but in her eyes, it's "Mean Girls meets The Craft."
"We're excited about it," says Anthony. "There's so many powerful messages within this movie for high schoolers and college kids, anyone that's trying to fit in, or anyone that doesn't feel like they fit in." She adds that the movie follows the proverbial "not cool kids" who turn to witchcraft in order to help them fit in more, but in the end backfires.
"Ultimately you realize we all have the magic inside of us and we don't have to go through some alternative space to feel good about ourselves or to feel like we fit in," La La describes. "Visually, it's a horror film with a twist. So you get to see all kinds of magic happening."
Aside from her professional endeavors, La La Anthony also spoke about being a mother to her 15-year-old son Kiyan, whom she shares with ex-husband Carmelo Anthony. When asked about what it's like to raise a teenager during an age where they typically rebel and attempt to separate themselves from their parents, she says it's quite the opposite and they're closer than ever.
"It's funny because I hear that from so many people. I'm grateful that I don't have that issue," Anthony notes. "My son is my best friend. My son still likes hanging out with me and we do so many things together. I always tell him I'm glad that he still thinks I'm cool.
"He's an incredible student and incredible athlete," she adds. "He's really focused on his basketball right now so it's just fun to watch him find his passion and something that he wants to do and give his all to that."
Perhaps that's why she got involved in the Old Spice "Men Have Skin Too" ad campaign, which highlights the importance of male hygiene and the body wash and deodorant products they promote to help improve it.
The campaign highlights the importance of products that have science-backed formulas with superior ingredients like the new Old Spice GentleMan's Blend lineup of body wash and deodorant.
"When I got the call to be a part of this I was super excited. My son is such a big fan of the gentleman's blend and it's nice to not have to convince your kid to like make sure you smell good, make sure you wash yourself good," she says. "To see his mom in a commercial as well that's witty and edgy and funny. It is really cool."