Mind Your Money: Expert Advice For This Travel Influencer On How To Retire At 45
This nomadic family of three has lived in Mexico, California and Colombia.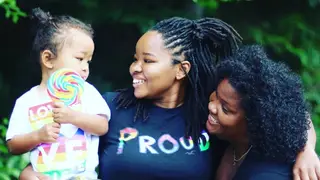 Jobs: systems analyst, human resources systems consultant, content creator, and family/sustainable travel influencer, at It's a Family Thing
Salary: $100,000 to $250,000, depending on contracts, jobs
Goal: Build enough wealth to retire by age 45 and focus on her online brand (s)
Corrita Lewis lives the zero zip code life, traveling full time with her family around the globe.
The nomadic family of three—Lewis has a wife and 3-year-old son—have lived on the beaches of Mexico, kicked it in Colombia, and brought it back to Legoland in California. At any given time, they are on a flight, on a road trip, or a tour bus to their next adventure. 
While traveling, Lewis loves giving young girls sustainable menstrual products in the communities that they visit. They are the ultimate passport players, as evidenced by their brand, It's a Family Thing, where they chronicle their journeys in real-time.
"We are trying to push diversity in travel and get people to travel sustainably and think about the people and places they are traveling to," the travel influencer said.
The 32-year-old systems analyst and human resources systems consultant had to cut her expenses and reduce her debt to prepare to live the digital nomad lifestyle. Unlike many who joined the army before college to help pay for tuition, Lewis joined the army reserves at age 22 after college once she realized that the roughly $30,000 she took out in student loans had quickly ballooned to $50,000 due to interest accumulation.
She worked her day job to combat the debt, drove Uber, and took advantage of the army's student loan payment help. She paid the loans weekly.
"I wanted them off my back," Lewis said.
After paying off her student loans, she bought a home in 2016 in a San Diego suburb for $290,000 and a sold it about two years later for $360,000
After Lewis had her son in 2018, she juggled office work and motherhood, and it sped up her decision to travel full time.
"I want to be able to see my son," she said.
To prepare for their new life of full-time travel Lewis and her wife sold their car and used the Facebook marketplace to buy baby needs, and opted for cloth diapers. With their finances in order, "We decided to take the plunge," Lewis said. The plan was to travel worldwide after visiting with family.
Lewis tried to resign from her job, but her boss suggested that she work remotely. Lewis and her family had planned to head to Costa Rica for two months. However, while visiting her sister in Colorado in 2020 they were there for four months due to Covid. The family then took a detour to Ohio, where she grew up.
Ultimately, Lewis' position at her company was eliminated, and the family moved to Playa Del Carmen, Mexico. "It was a better cost of living and allowed us to figure out our next plan," she said.
In Mexico, the family lived off $1,000 per month, and they paid $400 per month for rent. Her son's school was between $120 and $130 per month, depending on the exchange rate. Lewis also snagged a new remote job while there. However, after living in Mexico for 15 months, the family moved to Colombia in 2021, and lived there for 2.5 months.
Lewis currently earns anywhere from $100,000 to $250,000 per year, of which she saves half. She also maxes out her 401k and Roth IRA. Her goal is to build enough wealth to retire by age 45 and focus on building the family's online brands, which she hopes will produce enough income for them to live off. 
Renora Nelson, a wealth manager at Merit Financial Advisors, in Alpharetta, Georgia, says that Lewis can retire by age 45.
"She's already going to get there on her own by saving, but she's going to need additional resources because she has a high income."
Nelson advises that Lewis add a tax adviser to her team to help her with tax planning because she will have a large amount of assets.
Nelson also advises that in addition to taxes, Lewis must focus on estate planning, cash flow, and risk management when building wealth.
Lewis should work with a professional and take stock of her current situation, Nelson said, suggesting that the travel blogger complete a cash flow statement and balance sheet detailing total income, taxes paid, and whether her savings are tax-deferred.
"Someone like her needs a financial plan and a road map to reach her goals," Nelson said.
Giselle Ugarte, an online performance coach and founder of Offline Talent say longevity is a possibility for influencers such as Lewis, but they have to follow three steps:
Don't rely only on the brand or platform for income. Think of things like consulting, courses, coaching, or finding ways to generate advertising revenue on a platform that belongs to her, in contrast to a YouTube or an Instagram, where the advertising belongs to them.
Find streams of revenue that don't take her face or DNA to generate. A trap that is easy to fall into is attaching your face to everything since that typically is the assumed source of influence. However, finding or creating services, education, or products that can be delegated, replicated, automated, and/or have nothing to do with follower count or views, like digital products or even real estate investments.
Pay yourself like an employee. A huge mistake that many influencers make, myself included at the start, is thinking that making more money will solve all of your problems—but it's really about how to maintain it and invest for the future. For example, instead of getting a big check and taking a percentage of that each time, pay yourself a set amount every month or give yourself an annual salary to create a rainy day fund. Then you can start investing and, of course, create that retirement fund.