Oscar Isaac Enters the MCU with Official 'Moon Knight' Trailer
Disney+ debuted the thrilling new adventure during halftime of an NFL matchup.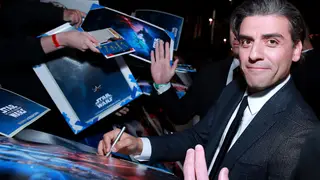 A new, thrilling look at the trailer and first poster for Marvel Studios' upcoming series, Moon Knight, has everyone squealing in excitement.

Premiered during halftime of the NFL Super Wild Card matchup between the Los Angeles Rams and the Arizona Cardinals, the show, which stars Oscar Isaac (Dune) portrays Steve Grant, a mild-mannered gift-shop employee. In the visual entrée, we learn that he has a form of dissociative identity disorder and shares a body with a host of other personalities, including the mercenary Marc Spector.

As Steven/Marc's enemies converge upon them, they must navigate their complex identities while thrust into a deadly mystery involving the powerful gods of Egypt.
Moon Knight also stars Ethan Hawke and May Calamawy. Mohamed Diab (Cairo 678). The team of Justin Benson and Aaron Moorhead (The Endless) directed the six episode arc.

Eager Marvelites will have to wait until the show streams to Disney+ on March 30.