LeBron James and Draymond Green Speak Out About Racist NBA Fans
The Warriors' All-Star forward says like Adam Jones he too was called the "N-word."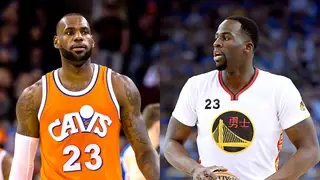 Baltimore Orioles All-Star center fielder Adam Jones being called the N-word and having a bag of peanuts thrown at him by Boston Red Sox fans Monday night was an incident that other star athletes noticed. Even if they're in other sports.
NBA All-Stars LeBron James and Draymond Green spoke up about their own experiences with racist fans on the road.
"I've gotten the N-word, all of that," Green told The Undefeated on Tuesday night after learning about Jones's incident in Boston. "I'd rather not get into [where]. A few places, especially being that it is me. Athletes are just not protected in that regard. Maybe something like [the Jones incident] will help." 
Then last night, following the Cleveland Cavaliers' 125-103 rout of the Toronto Raptors in Game 2 of their Eastern Conference semifinals playoff series, King James weighed in on the situation, too.
While he couldn't recall racial slurs being yelled at him while playing in Boston through the years, James did say he makes sure to "have tunnel vision" when playing to block everything else out.
The three-time NBA champion also told reporters, "Racism, we know, exists."
In the aftermath of the ugly incident at Boston's Fenway Park, the Red Sox apologized and its fans gave the center fielder a standing ovation on Tuesday night. Appreciating the sentiment, Jones thinks that there should be stiffer consequences towards offending fans. And Green agrees, saying a clear line needs to be drawn.
"Cheer for your team. Do what you want. But if I'm playing in the game and you're cheering for your team, it doesn't give you the right to say whatever you want to say to me," Green continued telling The Undefeated. "This is my job, and I can't go to your job and say whatever I want to you. If I went to someone else's job and said whatever I wanted to say, I'd get arrested for harassment. It's a fine line. I don't think any league does a great job of making sure that athletes are protected."
The night after the incident with Jones took place, a fan outed a man at Fenway Park making racial comments towards a Kenyan singer performing the national anthem before Tuesday night's game. It resulted in the Red Sox slapping the man with a lifetime ban, as reported by NPR.
"Yes, it was a racial comment," Red Sox club President Sam Kennedy said in a statement from the team. "It was a racial comment used to describe the national anthem that was taking place, the performance of the national anthem. It was sickening to hear."
BET Sports News — Get the latest news and information about African-Americans in sports, including weekly recaps, celebrity news and photos of your favorite Black athletes.