Watch: Young Fort Myers Club Shooting Survivor Shares Facebook Live Video From Hospital Bed
The recording has inspired prayers for his quick recovery.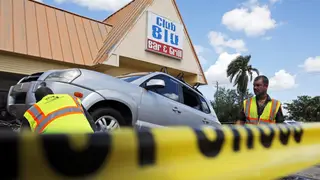 Timothy Settles was excited to have a good time at the teen night hosted by Club Blu. Before going to the party, Settles posted a status on Facebook that read, "Club Blu tonight…" with an emoji of a cool smiley wearing sunglasses.  
Then Settles attended the teen night at the club and was unfortunately one of several who sustained injuries from the shooting. Then he posted a chilling status that read, "I don't wabna[sic] die," followed by a four second Facebook Live video of him in his hospital bed.
Immediately, friends of Settles began posting words of encouragement along with prayers. From the video, it appeared that he was critically injured; however, he said in another post that he's doing better and anyone is welcome to visit him.
Thankfully, it appears that Settles is going to pull through, yet it's very unfortunate that such a terrible event happened to such young people. Police have not yet revealed any motive for the shooting or information about the suspects.