Dame Dash Says Racism Fueled Jay Z, Cam'ron Beef
Music exec explains why the dismantling of Roc-A-Fella Records wasn't as bad as it seemed.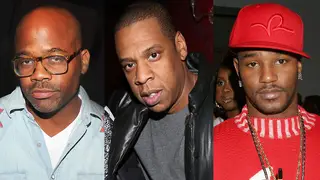 Despite the numerous disses launched on record between Cam'ron and Jay Z, Dame Dash insists that the beef between the two New Yorkers has been blown way out of proportion, and racism has had a hand in that.
"Me, Jay and Cam could sit down and do business at anytime," the Poppington Gallery owner told BET.com when asked if the relationship between himself, Hov and Cam could ever be mended. "We're gentleman, it's about money," he added. "Why [wouldn't we be able to]? 'Cause we're Black? Anytime people have an opinion about each other in our culture, that means we're going to fight each other on sight. It's 'cause we're Black? It's the most racist s--t in the world ... What's the beef? There's no beef. You think I'm going to swing on Jay?"
The dismantling of Roc-A-Fella Records is one of the most hushed-but-public stories in the game. Some credit Cam'ron for being the loose thread who led to the fraying of one of music's most successful music labels, after Dash signed him and Harlem collective The Diplomats to a Roc-A-Fella/Def Jam deal in 2001.
In 2002, Jim Jones announced Cam as the Vice President of Roc-A-Fella while Jay was away on vacation. The industry all but held its breath until Jay's return — there were already rumors circulating that he and Cam weren't getting along.
By 2004, Jay had sold his share of the label to Def Jam. Then he became president of Def Jam. Bold move.
Still, Dash says, it's not that serious. "You think Cam and Jay can't do business? Why not? What gon' happen? They gon' fight?" he prodded. "...At the end of the day, you see, that man [Jay] does right by my family, and that's all that counts to me, period."
Need proof? Check the vid to see Dame Dash reveal how, as he says, "gentlemen play chess."
BET.com is your #1 source for Black celebrity news, photos, exclusive videos and all the latest in the world of hip hop and R&B music.
 (Photos from left: Theo Wargo/Getty Images, Johnny Nunez/WireImage,  LK/ WENN)