Black Man Who Was 'Good Guy With A Gun' Shot By Police
K'aun Green was trying to disarm a shooter in a San Jose restaurant.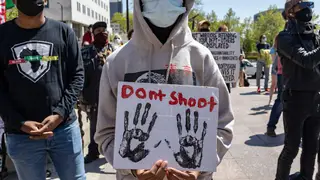 K'aun Green, a 20-year-old former football player, was shot by police and is now hospitalized after disarming a shooter in a San Jose, California restaurant.
On April 3, a fight broke out at La Victoria restaurant and a man pulled out a gun, NBC News reports. Green grabbed the weapon from the man but when police arrived, he was shot four times.
Green, who was reportedly offered several football scholarships to four-year universities, is fighting for his life in the hospital. At one point, police kept Green handcuffed to his hospital bed. He suffered wounds to the abdomen, leg and arm.
Police have accused Green of not obeying commands when he was told to drop the weapon. However, Adante Pointer, Green's attorney, said in all of the chaos, his client did not hear the officers.
Pointer said in a statement,  "The police yelled 'drop the gun,' and without giving my client a second to understand it was the police, or turn around and see what was going on, or even to drop the gun, he was shot multiple times."
Green said he did not know the people who started the altercation in the restaurant.
Surveillance footage reportedly shows four seconds passed between the time police arrived on the scene, saw Green and shot him.
San Jose Police Chief Anthony Mata said in a statement, "The officer did not know who brought the gun to the restaurant."
The officer is a four-year veteran whose name has not been made public. He has been placed on routine administrative leave and the shooting is being investigated.
Pointer says his client plans to sue the police department.