Video Captures Moment Miami Officers Fatally Shot 22-Year-Old Honors Student Cariann Denise Hithon
Shots were fired at the student after she rammed her car forward into a police officer.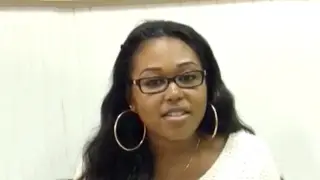 Video of the fatal shooting of a 22-year-old honors student has been circulated on Instagram. In the graphic clip, an officer shoots into the BMW of Cariann Denise Hithon after she drivers her car forward into an officer and a crowd of bystanders. 
On Sunday night, Hithon reportedly drove the car into other vehicles in South Beach. The 22-year-old traveled to the beach destination to celebrate her 22nd birthday, which was on October 5.
According to the Miami Beach Police Department, a group of people as well as several officers surrounded Hithon's BMW to prevent her from fleeing the scene. However, when officers approached her vehicle, she hit the accelerator and hit Officer David Cajuso, who went flying onto the ground, reported Miami New Times.
Then another officer, whose name has not yet been released, shot into Hithon's car to prevent her from hitting others. Hithon was pronounced dead on the scene. 
On person in the video can be heard saying, "she's drunk as s**t."
Miami-Dade County police are investigating the events leading up to the fatal shooting. Police also confirmed an unnamed person was sitting in the front passenger seat of Hithon's car.
Miami Beach Fraternal Order of Police President Bobby Jenkins released a statement today standing by the currently unnamed officer who opened fire.
"It is unfortunate that yesterday's events ended in the loss of life, yet it is an officer's duty to ensure the safety of the public under the imminent threat of harm from an individual," Jenkins told Miami New Times. "That being said, we cannot dismiss the fact that an officer was hit with deadly force by a vehicle that was driving recklessly and fleeing from the scene of an accident. We welcome the independent investigation being conducted by the Miami-Dade Police Department and are confident that our officer's actions were justified, warranted, and appropriate given the circumstances at hand."
According to Hithon's LinkedIn page, she was pursuing a degree in political science and government from Hampton University in Virginia. Her LinkedIn page also says she recently transferred to Temple University in Philadelphia. Hithon also participated in a "Sister-to-Sister" mentorship program for children from 2013 until this year.