Study: Black Children Who Experience Racism Are At A Higher Risk For Obesity
Black and Hispanic children have higher rates of obesity according to a new report.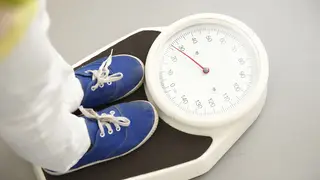 Children who are subject to racial discrimination are at higher risk for obesity, a new report revealed.
According to a study conducted by researchers at New York University and published in the JAMA Network Open, children are likely to have a higher body mass index (BMI) as well as larger waistlines when they encounter racial discrimination. Currently, Black and Hispanic children have higher rates of obesity.
Adolfo Cuevas, assistant professor of social and behavioral sciences at the NYU School of Global Public Health and the study's lead author of the study noted that racial disclination is often overlooked as a key contributing factor to obesity in Black children.
"Exposure to racial discrimination must be acknowledged as both a social determinant of obesity and a significant contributor to obesity disparities among children and adolescents," Cuevas said.
From 2017 to 2019, more than 6,000 children ages 9 to 11 were involved in the study and researchers discovered that children who believed they were discriminated against because of their race or ethnicity "had higher BMIs and larger waist circumference a year later, even when household income and parents' level of education was taken into account."
The study also showed that more than 24 percent of children whose parents were in the lowest income category were more likely to encounter obesity in comparison to 4 percent of children whose parents have higher incomes. When it comes to education, children with parents who had a high school diploma or less were more likely to become obese than children whose parents are college graduates.
Cuevas said that identifying and eliminating racial bias at a young age has the potential to change the current trend of childhood obesity by preventing early weight gain in children of color.
"We tested discrimination at one time point, but it's important to recognize that prolonged exposure to racial discrimination has the potential to further increase the risk of obesity," Cuevas explained. "Therefore, preventing or at least mitigating the impact of discrimination sooner than later could potentially reduce the risk of obesity."
"It is crucial for researchers, clinicians, educators, and policymakers to join forces with communities to establish evidence-based strategies aimed at preventing exposure to racial discrimination in order to improve obesity at the population level," he added.
David Williams, a leading figure in that research and chair of the Department of Social and Behavioral Sciences at the Harvard T.H. Chan School of Public Health, noted that research connecting racial discrimination to poor health and obesity is constantly expanding. If the issue is not addressed, the trend numbers of obese children of color will continue to rise
"What we have discovered over the years is that discrimination is a type of stressful life experience that has negative effects on health just like other types of stressful life experiences," Williams said. "It leads to worse mental health and physical health."