Michelle Obama Shares Her Motivation for Wanting to Change What Kids Eat
In an essay, the former first lady wrote about giving parents better food options for their children.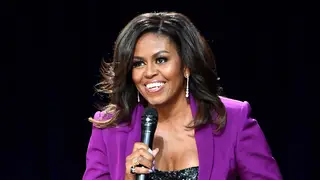 Former First Lady Michelle Obama has always been focused on helping kids have healthy lifestyles. While in the White House, she launched "Let's Move!," a national campaign to reduce childhood obesity and help children have healthier lifestyles. Enlisting support from artists, Obama got kids to play and exercise. She also created initiatives to make school lunches healthier.
She's co-founder of a new food and beverage company for children, PLEZi Nutrition.
"Parenting demands something from every part of us—our bodies, our minds, our souls. And yes, our schedules. In between work and school, between soccer practice and dance lessons, we have to squeeze in snacks and dinner before the bedtime routine begins," she writes. "All those pressures mean that convenience and ease often take priority over everything else, especially when it comes to what our kids are eating and drinking."
Obama then shared a personal recollection that prompted her to change her relationship with food for herself and her family. "I still remember taking one of my girls for a well-child visit and having the doctor tell me that all those simple choices I was making were negatively impacting her health. It was one of the worst feelings I've had as a parent—and one of the biggest wake-up calls of my life. I was a little scared, and also a little exasperated."
She noted that she took her passion to improve the food choices for children all the way to the White House, adding, "I saw it as a chance to support parents as they're trying to raise healthy families. We made some incredible progress—improving school nutrition standards, encouraging companies to lower sugar and salt in their products, and so much more."
She notes that with PLEZi Nutrition, she plans to be an ally for parents in helping them make healthier choices.
"I'm proud to be a cofounder and strategic partner of PLEZi Nutrition, a public benefit company designed to make healthier drinks and snacks that taste really good. But we're not just making products. We're hoping to spur change throughout the entire food industry," she wrote, adding that PLEZi drinks have a "familiar taste" for children, but less sugar.
"It's a small change, but we think it can have a big effect. And really, that's what creating this company is all about for me. It's why we're working with a team of public health and parenting experts to keep us on the right track and help us educate parents about healthy eating. And it's why we're investing 10 percent of our profits right back into the broader movement to promote children's health."