Video Shows Topless "Women's Lives Matter" Protester Charge At Bill Cosby Before Getting Arrested
The woman was identified as actress Nicolle Rochelle, who appeared on "The Cosby Show."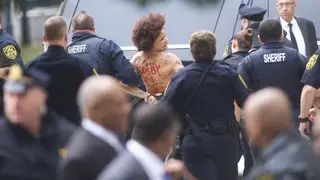 As Bill Cosby entered a Philadelphia courthouse for the start of his sexual assault retrial on Monday, a topless protester with "Women's Lives Matter" written on her body jumped over a barricade and charged at the comedian.
Reporters, camera crews and photographers fiercely worked to capture the chaotic moment when the woman ran in front of Cosby just before getting detained by sheriff's deputies, who led her away in handcuffs.
While the protester ran towards Cosby, she chanted, "women's lives matter" and "Bill Cosby is a rapist!"

Other protesters chanted at Cosby, who appeared somewhat startled by the uproar.

Although opening statements for the retrial are expected to begin Monday, many believe a delay will occur while the judge reviews allegations that a juror was overheard saying he thought Cosby was guilty on Friday. Cosby's lawyers asked that the man be questioned and removed from the case, reported the Pittsburgh Post-Gazette.

Eventually, the protester was identified as an actress who appeared on "The Cosby Show"

Rochelle, 38, was arrested and charged with summary disorderly conduct, reported Page Six.

The New Jersey resident was released and faces no jail time.

She appeared alongside Cosby in minor roles on The Cosby Show between 1990 and 1992, according to her IMDB page.