Sundance 2022: 13 Must-See Films Starring Black Talent Streaming at This Year's Festival
From work by first-time filmmakers to hilarious mockumentaries, these are the movies to watch during this year's Sundance.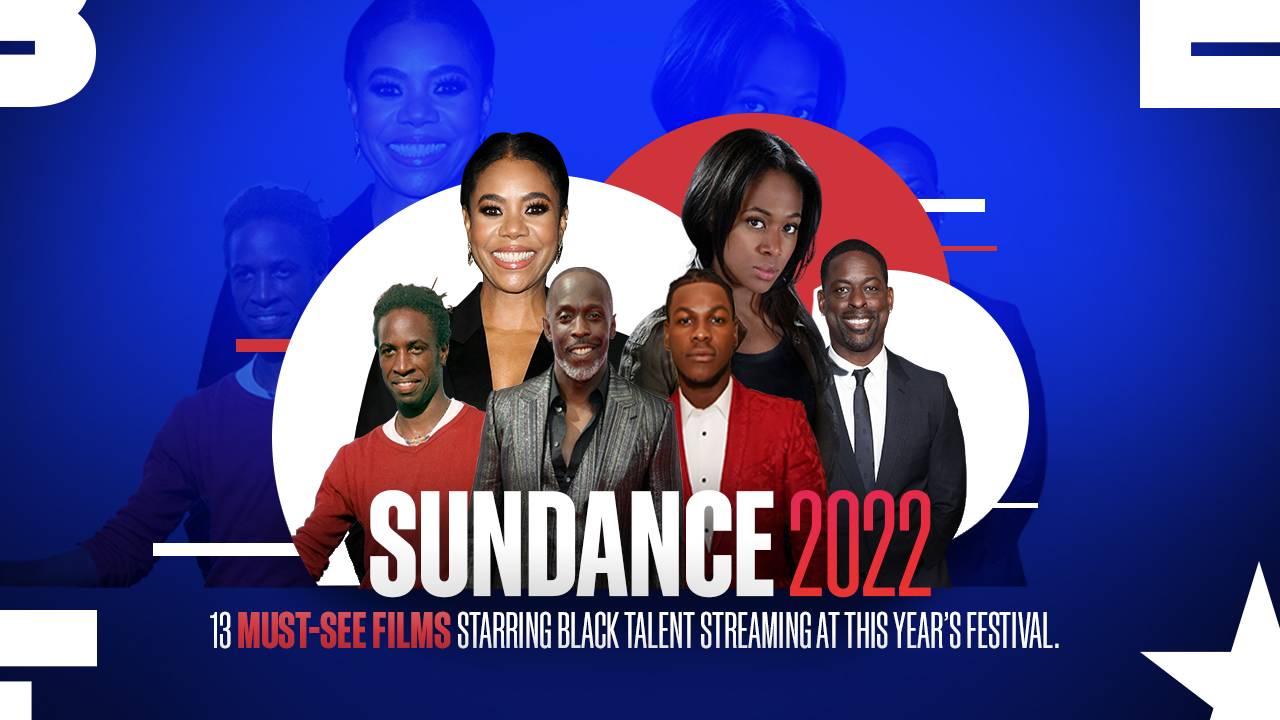 The pandemic has once again put a pause on something we were all looking forward to enjoying. This year's Sundance Film Festival, which would have been a first-time in-person event for this writer, has gone completely digital and that major pivot has forced all on-the-ground actions in Park City, Utah to cease.
From Jan. 20 to Jan. 30, the wildly popular indie festival will feature 82 feature-length movies, with 75 of them being world premieres, so while I won't be able to reunite with "friend-in-my-mind," Nicole Beharie, many cinephiles will get the option to see this vast selection of movies from the comfort of their own homes.
There's something for everyone, indeed, but from the large slate, BET.com has selected 13 of the films we're most excited for you to enjoy from home, which includes big names in front of and behind the camera.
Given how much there is to choose from this year's lineup (we're looking at you, Honk For Jesus!) — consider these must-see Sundance films as a recommendation for your own at-home guide to have as you and yours stream this collection of intriguing cinematic options safe and sound.
Emergency

Director(s): Carey Williams

Screenwriter(s): K.D. Dávila

Starring: RJ Cyler, Donald Elise Watkins

Why You Should Watch: Emergency is the second feature premiere for Carey Williams, whose award-winning short of the same name took home the Special Jury Award at the 2018 Sundance Film Festival. This year, the picture will play in the U.S. Dramatic Competition section and is ripe for fans of dark comedy and layered characters.

In Emergency, a straight-A college student named Kunle (Donald Elise Watkins) and his laid-back best friend, Sean (RJ Cyler), must weigh the pros and cons of calling the police when a pit stop threatens their goal to be the first Black students to complete their school's legendary frat party tour.

Written by K.D. Dávila, Emergency is a sharp and wildly comedic outing that takes timely racial dynamics and flips it, making for a film to add to your Sundance streaming list.

Nanny

Director(s): Nikyatu Jusu

Screenwriter(s): Nikyatu Jusu

Starring: Anna Diop, Sinqua Walls, Michelle Monaghan

Why You Should Watch: Sierra Leonean-American writer-director Nikyatu Jusu impressed Hollywood insiders and cinephiles with her 2019 short film Suicide By Sunlight. After dominating the 2020 Sundance Directors and Screenwriters Labs and making the Black List, Jusu is upping the ante for 2022.

Nanny, a horror-thriller scripted by Jusu, finds Aisha (Anna Diop), an undocumented Senegalese immigrant piecing together a new life for herself in New York City as nanny of a young wealthy Upper East Side couple. While she wins the affection of their young daughter Rose (Rose Decker), Aisha is forced to become a pawn in the couple's concealed truth. While awaiting her own son's arrival to the U.S. this tension creates a supernatural motif that invades both her dreams and her reality.

Jusu elegantly weaves West African folklore and supernatural entities into Nanny, making this film a unique genre-shift for new and longtime fans of horror.

We Need To Talk About Cosby

Director(s): W. Kamau Bell

Why You Should Watch: Five-time Emmy Award-winning host and comedian W. Kamau Bell is building upon his popular United Shades of America docuseries with an exploration of Bill Cosby's descent. With past projects such as Totally Biased with W. Kamau Bell and Cultureshock in his resume, Bell is one of the premiere voices to tackle one of the most high-profile non-fiction titles announced for the 2022 Sundance Film Festival.

In We Need To Talk About Cosby, Bell helms the four-episode docuseries to delve into how one of the most recognizable Black celebrities in the world went from "America's Dad" to alleged sexual predator. Comedians, journalists, and survivors who are all closely connected to Cosby's life on screen and off, have a brave conversation about the man, his career, and what his work and actions say about America, then and now.

We Need To Talk About Cosby is a powerful discussion that will urge audiences to reconsider everything they know about the legendary entertainer and the culture that produced and celebrated him.

Marte Um (Mars One)

Director(s): Gabriel Martins

Screenwriter(s): Gabriel Martins

Starring: Rejane Faria, Carlos Francisco, Camila Damião

Why You Should Watch: Known for his work at Filmes de Plástico, Gabriel Martins is a wonderfully innovative filmmaker from Brazil. After his first feature, In the Heart of the World, which was co-directed with Maurilio Martins (Quinze), premiered at 2019's IFFR's Tiger Competition, Marte Um, a part of 2022 Sundance Film Festival Satellite Screen program, serves as his second feature in his burgeoning career.

In Marte Um (Mars One), the film centers on the Martins, a lower-middle-class Black family of four, who are optimistic dreamers. Feeling the strain of their new reality of living under a far-right extremist president in a major Brazilian city, the family must keep their spirits up as they find themselves and their country at a crossroads.

Writer-director Gabriel Martins gets authentic performances from his cast: Rejane Faria, Carlos Francisco, Camilla Damião, and Cícero Lucas, while weaving an uplifting and tender story that will invite cinephiles to also dream beyond the realm of limited possibilities.

Honk For Jesus. Save Your Soul.

Screenwriter(s): Adamma Ebo

Starring: Regina Hall, Sterling K. Brown

Why You Should Watch: Twin sister filmmakers Adamma and Adanne Ebo have revised Honk For Jesus. Save Your Soul. The film originally premiered as a 2019 short on Issa Rae Presents and is now a feature-length film meant to grow sisters' budding reputation in the business. The two writing partners have already hit a huge mark with upcoming credits in the Donald Glover-starring vehicle, Mr. & Mrs. Smith for Amazon, and they have recently directed an episode of Atlanta Season 4.

In Honk For Jesus. Save Your Soul., Regina Hall and Sterling K. Brown portray first lady Trinitie Childs and Pastor Lee-Curtis Childs, the shepherds of a Southern Baptist megachurch, who come under scandal involving the latter and forces the church to close temporarily. Partially shot as a mockumentary, Trinitie and Lee-Curtis must rebuild their congregation, reconcile their faith, and rebrand their image in what is surely going to be a lively satire on for-profit religion.

The Ebo twins, a sure-fire filmmaking power duo, pack big humor, big heart, and bitingly sharp writing in Honk For Jesus. Save Your Soul. that promises audiences a chance to see two of Black Hollywood's finest deliver in a major way for the next generation of creatives.

Riotsville, USA

Director(s): Sierra Pettengill

Screenwriter(s): Tobi Haslett

Why You Should Watch: For hardcore cinephiles, Sierra Pettengill is a mainstay at Sundance, as well as on CNN, Netflix, and PBS. Also an archivist for the likes of Jim Jarmusch and a board member of Screen Slate, if you haven't seen the Oscar-nominated Cutie and the Boxer, please see that before streaming Riotsville, USA.

In Pettengill's riveting documentary, which also bills Jamila Wignot (Ailey) as a producer, she reflects on the civil rebellions of the late 1960s, focusing on Army-built model towns called "Riotsvilles." According to the synopsis, the film dissects the anatomy of then-President Lyndon B. Johnson's Kerner Commission, which resulted in a massive increase in federal funding for police.

Similar to issues being faced by Americans today, Riotsville, USA instills in the viewer how institutional machines have consistently consolidated power while ignoring the needs of the people. This is an explosive film to share with friends, family, and those still on the frontlines of the struggle.

God's Country

Director(s): Julian Higgins

Screenwriter(s): Shaye Ogbanna, Julian Higgins

Starring: Thandiwe Newton, Kai Lennox, Jeremy Bobb

Why You Should Watch: Los Angeles-based writer and director Julian Higgins has had his work screened across the world and even took home the grand prize for Ron Howard's Project Imaginat10n contest. A recipient of two Student Emmy Awards, Higgins' most recent short film, Winter Light, was a top 10 finalist for the Academy Award.

Thandiwe Newton (Westworld, Solo: A Star Wars Story), shines brightly as Sandra in Higgins' feature debut, God's Country. The script, co-written by Higgins and Shaye Ogbonna, finds the Primetime Emmy Award-winner playing a grieving college professor who confronts two hunters she catches trespassing on her property. A complex set of events lead to an escalating battle of wills as God's Country examines the mourning process and one's determination to be taken seriously.

Newton, along with co-stars Kai Lennox and Jeremy Bobb, deliver believable characters that occupy almost every frame of Andrew Wiggins' cinematography. You, too, will no longer be willing to yield your engagement when you cop your ticket to see God's Country during this year's Sundance Film Festival.

892

Director(s): Abi Damaris Corbin

Screenwriter(s): Abi Damaris Corbin, Kwame Kwei-Armah

Starring: John Boyega, Michael K. Williams, Nicole Beharie

Why You Should Watch: Boston-bred Abi Damaris Corbin is a George Lucas-sponsored, BAFTA-shortlisted filmmaker of note. After entering college at the old age of 14, she graduated with an MA in Performance Studies, and became an alumnus of USC's School of Cinematic Arts and the Sony Pictures Television (SPT) Diverse Directors Program.

In 892, which originally had Jonathan Majors as part of the cast, a U.S. Marine veteran Brian Easley (John Boyega) faces mental and emotional challenges that are driven by forces beyond his control. When his desperation leads him to rob a bank and hold hostages with a bomb, it becomes crystal clear that money is not his goal — he wants to tell his story at any price, even if it costs him his life.

Based on a true story adapted by Kwame Kwei-Armah, 892 also features powerful performances by Nicole Beharie (Miss Juneteenth, Scenes from a Marriage) and marks the final screen role for the late, great Michael K. Williams. This tension-filled film will encourage those who watch this to honor the fallen and those who battle on the frontlines for our country.

Master

Director(s): Mariama Diallo

Screenwriter(s): Mariama Diallo

Starring: Regina Hall, Zoe Renee, Amber Gray

Why You Should Watch: Mariama Diallo is a masterful storyteller from Brooklyn, New York City, whose work on HBO's Random Acts of Flyness and the HBO short, Hair Wolf, has set her apart from her contemporaries. In her debut feature, Master, which has already been picked up by Amazon Studios, Diallo builds upon her "Directors to Watch" acclaim with an ingenious blend of horror, psychological thriller, and social critique.

Regina Hall, Zoe Renee, and Amber Gray play three women uniquely trying to find their place at an elite New England university that just so happens to be built atop a Salem-era gallows hill. Gail Bishop (Hall), just instated as "Master," a dean of students, first-year student Jasmine Moore (Renee), and literature professor Liv Beckman (Gray) discover and collide with the cold, uncomfortable truths that lie behind the school's immaculate facade.

Aftershock

Director(s): Paula Eiselt, Tonya Lewis Lee

Starring: Shamony Gibson, Amber Rose Isaac

Why You Should Watch: Featured at this year's U.S. Documentary Competition, Aftershock is directed and produced by Paula Eiselt (93Queen) and Tonya Lewis Lee (The Watsons Go to Birmingham), and finds the two artists using the intimate lens to seek justice reform and present unforgettable characters thriving in unbelievable circumstances.

Eiselt and Lee follow the bereaved partners of Shamony Gibson and Amber Rose Issac, two excited mothers-to-be whose deaths due to childbirth complications were preventable, and offer a damning critique of the failing maternal health system in America. 

Aftershock serves as a rallying cry around this largely ignored crisis, as Omari Maynard and Bruce McIntyre, along with other surviving Black fathers, bond, support, and fight for justice in the name of exploited and neglected Black women in America.

Punctuated with condemning testimonial and historical context, Aftershock is a film that brings to audiences an unsettling reality while uplifting all those affected and striving to bring institutional change and legislative reform to this issue.

Neptune Frost

Director(s): Anisia Uzeyman, Saul Williams

Screenwriter(s): Saul Williams

Starring: Cheryl Isheja, Elvis "Bobo" Ngabo, Bertrand "Kaya Free" Ninteretse

Why You Should Watch: Part love story, part road movie, and all Americana, Anisia Uzeyman's work as an actress in 2016's Dreamstates showcased that there was more to come from the Gihindamuyaga Mbazi, Rwanda native. In that film, she went from a wayward soul to a married couple alongside Saul Williams. Both bring their imaginative dynamism to this their latest work, Neptune Frost. The playwright and dramaturg, brings an element of Afropunk-flavor to the Sundance streaming experience.

Neptune Frost is musical science fiction hybrid set in Rwanda about a transcending connection between an intersex runaway, Neptune (played by both Cheryl Isheja and Elvis "Bobo" Ngabo), and a grieving coltan miner (Bertrand "Kaya Free" Ninteretse). Neptune Frost marks a next-level feature in the growing pantheon of Afrofuturism cinematic entries. 

Uzeyman and Williams even invent a language fueled by Kinyarwanda, English, Swahili, and French that adds another level of vibrancy to Neptune Frost. It also adds color to the plotline where Africans mine the rare earth minerals that power mankind's digital network.

A stunning motif by two griot-styled storytellers makes Neptune Frost, which debuted to critical acclaim at last year's Cannes Film Festival, a film that should be atop your Sundance Film Festival rewatch queue.

Alice

Director(s): Krystin Ver Linden

Screenwriter(s): Krystin Ver Linden

Starring: Common, Keke Palmer, Gaius Charles

Why You Should Watch: In her directorial debut, Krystin Ver Linden goes for the gusto in Alice, which boasts a pretty star-studded cast. As a screenwriter, she has been on the Black List numerous times and has worked with major studios, including Lionsgate and Paramount Pictures, which honed in on her expertise of the drama and thriller genres.

Starring Keke Palmer as Alice, a slave in the antebellum South, her restlessness gives way to an escape from a secluded plantation only to discover a shocking reality that lies beyond the alleé trees. When she's rescued by a disillusioned Black activist — played by the rapper Common — Alice is thrown down the rabbit hole and into the turbulent wonderland of the post-Civil Rights South.

Adding in that Common, Karriem Riggins, Burniss Travis, and Patrick Warren are composers for Ver Linden's Alice, this inspired by a true tale-billed film is a lively one to add to your at-home watch queue.

You Go Girl

Director(s): Shariffa Ali

Screenwriter: Shariffa Ali

Why You Should Watch: In South Africa and Kenya, the name Shariffa Ali rings bells as an international creative leader committed to advancing radical change. Now, having been a resident of New York since 2013, this community organizer and professor at Princeton University brings her short film, You Go Girl, to the Sundance Film Festival.

Tiffany Mann (Orange Is the New Black, Rise) plays Audrey, a New York City comedian who can make a joke out of any situation placed in front of her. But when that takes her from the Big Apple to the Beaver State of Oregon, can this city woman overcome the staggering challenges and fears in front of her to rise to the occasion? 

If you're into female-centered projects that explore Black and African American experiences, then You Go Girl is right up your alley.