Henry Louis Gates Jr. Takes A New Journey Into Blackness With 'Making Black America: Through The Grapevine'
The Harvard historian and PBS show host is bringing a new look at our past to find why we are who we are, and why that's a good thing.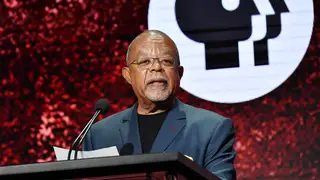 Culturally, Black America is as complex as it is diverse. It took more than four centuries of history to bring us to where we are in the present day and it's still a work in progress. This week renowned scholar and host of the PBS series "Finding Your Roots,"  Dr. Henry Louis Gates Jr. is taking a candid, yet affectionate look at this history in a new four-part PBS miniseries "Making Black America: Through The Grapevine."

In the miniseries, Dr. Gates explores the networks, organizations, traditions, and even expressions running congruently throughout the history of Black activism and struggle that has taken place over decades and throughout generations. He spoke to BET.com in a phone interview to describe what viewers will learn from the series. Below is an edited version of the conversation.


BET.com: Does this new series give us a definition of what it is to be Black American?

Dr. Henry Louis Gates: Our series complicates the definition of what it means to be an African American. Why? Because with so many films about Black people, so many depictions in Hollywood, you think that all we did behind closed doors is sit around talking about white supremacy, and white racism.

Now, while we do talk about those things, necessarily, and while we fight them, that's not what we talk about primarily. You know what we talk about behind closed doors primarily? It's what every other human being talks about: Love, our family members, our jobs, our ambitions, our dreams, our hopes, our beliefs, the relationships with each other, we're as complex as anybody on the face of the earth. But far too many of the films about Black people diminish us in our complexity, and I'm trying to restore the other two dimensions of three dimensional portrayals of the African American people.

RELATED: Henry Louis Gates' PBS Documentary to Cover 500 Years of Black History

BET.com:  Now the first episode of this series talks about how communities formed among Black people in America and how networks emerged, organized, and otherwise. So in your view, how did they survive all these generations?

Gates: Well, they survived for two reasons. One, out of necessity, because we needed these organizations in order to maintain our sanity. But two, because they provide value. People discard what's not useful, if you take any anthropology course you learn that. In the history of civilization, people try this, they try that if it's not working, they get rid of it, or they replace it.

Well, these organizations have survived because they satisfied a need within the African American community. And the most important one of all is "the grapevine." John Adams, a future President of the United States, in his diary in 1775, says that "these Black people have a wonderful art of communicating intelligence among themselves. It will run several hundreds of miles in a week, or a fortnight." Booker T. Washington, in this 1901 classic Up From Slavery, named it "the grapevine telegraph." Well that exists today as you know, it's called Black Twitter – "the grapevine" on steroids.

This network, that even our enslaved ancestors formed, continued through the 18th, 19th, and 20th century and now almost a quarter of the way through the 21st century. It's just morphed and changed its form.
BET.com: People really do speak of these intra-cultural expressions like "being on code," "the barbecue" and "the grapevine," which I remember hearing my grandparents talk about. Is that part of our cultural DNA?

Gates: The culture is made up of something a priori, it's something that develops piece by piece, action by action, barbecue by barbecue, bowl of potato salad by bowl of potato salad. It is the world that you learn from the time you were a child. My mother's family were Colemans and every Fourth of July, same rituals, same foods; Thanksgiving dinner, family reunions, which started in our family in 1949. That's just how our people do it. That's how the African American people formed the culture, many of the rituals that you share--but all of the rituals came out of your family.
You learn how to be black in your family, and by extension through your extended family, through your neighborhood, and your church. And in the secular organizations like the Elks, the Masons, the Order of the Eastern Star, et cetera, et cetera.

BET.com: You make a good point here, because you also talk about churches, fraternal groups, political organizations. Which of these in your view was the most impactful?
Gates: I would say it depends on where you live and really on your own family. But certainly the oldest and most continuous is the Prince Hall Masons. That was first founded a year and a day before the signing of the Declaration of Independence. Imagine that! On July 3, 1775, African Lodge No. 1 was founded right here in Boston. And the Order of the Eastern Star, that was a very impactful big time for African American women. The Oddfellows and the Elks, two extremely important organizations for Black people.

BET.com: This series differs, apparently from "Finding Your Roots," because that series encourages genealogical research. "Making Black America," however, has a more historiographical feel. Was that the intention?

Gates: Absolutely. We are telling the story of Black history. I'm put on earth to tell the story of our African and African American sisters and brothers, and through as many media as possible. I'm always looking for new ways to tell the story of Black history and there are so many that remain to be told. To be honest, we keep on telling the same old stories again and again, so I'm always looking for fresh stories, fresh ways to tell the story of African American survival.
And the most counterintuitive way of all was to show how we got over, and we got over by sustaining ourselves, nurturing ourselves, being ourselves, protecting ourselves and finding ourselves in our own image and not in the negative images that racist would would present us.

I wanted to show where we got the energy and the wherewithal to fight, to do political protest. And we got that through all of the activities that define Black culture in its full complexity. So political struggle is only one – it's an important one. But it's only one strand in the larger weave of the African American experience.

BET.com: There are also themes of Black culture, Black love, and Black identity in this work. But you seem to show how it has evolved through our history. So are you saying here that culture, love, and identity will continue to evolve for African Americans?

Gates:  I think that now, precisely because of people like you – I'll be doing interviews all day long and each time, I've got a young black person who's spreading the news through another medium. All of us collectively are working together to better the condition of our people and to keep ourselves healthy. 'To keep ourselves': I can't stress how important that phrase is. We have to protect each other from the ravages of Jim Crow racism and White supremacy. The ugly beast of White supremacy, has reared its head again. Under the Obama era, I think many of us thought that it was gone, but it came roaring back. And we saw that through the election of Donald Trump, and the events of January 6, and it's here today. The only way you can stay healthy, in order to fight that beast is to find ways within the community, within your family, within the broader community, within the space of Blackness, to nurture your ego to nurture your identity, protect your children from harm, and protect your children from the self doubt.

We have to have a counter-narrative. And that counter-narrative is pieced together from knowing our history and telling our history, which is what "Making Black America" begins to do.

For 'Making Black America: Through The Grapevine' showtimes, check your local listing, or visit https://www.pbs.org/weta/making-black-america/.