Montgomery Riverboat Co-Captain Charged With Assault Stemming From Brawl
Despite being the attack victim, Dameion Pickett was charged with third-degree assault.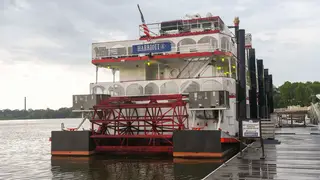 The fallout from the Montgomery Riverboat brawl continues as the co-captain of the vessel has been charged with third-degree assault.
According to AL.com. Dameion Pickett, co-captain of the Harriott II who has previously been identified in court records as Damien Pickett, was filed in Montgomery Municipal Court on Oct. 26 and is set to be arraigned on Nov. 21.
In the charges against the pontoon boat occupants, Pickett is listed as a victim
The brawl erupted on Aug. 5 when an argument arose between occupants of a pontoon boat that was blocking dock space that is reserved for the Harriott II Riverboat.
Soon after,  a group of White people attacked Picket who was working as a security guard for the riverboat, and instructed the boaters to move their vessel.
When the Harriot II docked, a group of Black men, which included some security personnel – and one individual who swam toward the fight – jumped in to defend him.
Several arrests were made when law enforcement arrived on the scene
"I think under different circumstances we could be friends," Roberts told Pickett. "You might not think so."
Roberts was also sentenced to 32 days in jail in Perry County and will serve his time on the weekends according to the plea deal. He also will serve 100 hours of community service and pay court costs.
Mary Todd also pleaded guilty to harassment and received a 15-day suspended sentence. She also was ordered to complete an anger management program and pay court costs.
Reggie Ray, who was seen striking oncomers with a folding chair, was charged with disorderly conduct.  A  GoFundMe that was established to pay for his legal fees has raised over almost $300,000
In an interview with The Daily Beast, Jim Kittrell, Captain of the Harriott II, argued that racism had to be the key factor that compelled the group of white men to attack the dockworker.
"The White guys that attacked my deckhand — and he was a senior deckhand first mate — I can't think of any other reason they attacked him other than it being racially motivated," Kittrell explained. "All he did was move their boat up three feet. It makes no sense to have six people try to beat the snot out of you just because you moved their boat up a few feet. In my opinion, the attack on Damien was racially motivated."