Laverne Cox Doesn't Offer An Apology For Her Comment To The Smiths, Instead, A "Love Letter"
"If the Smiths need an apology from me, I'll find out privately and I'll do it privately," said the trans activist.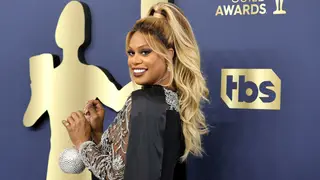 Looks like Laverne Cox got herself into her own "entanglement" with social media after receiving backlash for her closing remark finishing up her interview with Will Smith and Jada Pinkett Smith on the Screen Actors Guild Awards red carpet on Sunday.
The Smiths' stopped by to chat with Cox to discuss Will's nomination for King Richard and things were very light until the end of the interview.
The new E! carpet host was wrapping the conversation praising the Fresh Prince alum for his work over the years and mentioned how she is ready to see the Red Table Talk host bring the popular roundtable show to our screens.
After praising Will, she ends with referencing Pinkett's entanglement with August Alsina, saying "We can't wait for more Red Table Talk and more entanglements" to which they both laughed at with the Matrix alum expressing "no more of those."
Social media did not take the joke lightly, questioning Cox's judgment on bringing up such a touchy situation. The Inventing Anna star decided to respond to the criticism on her recent Instagram Live.
"I've been thinking about it..No one is above critique, I like to hold myself accountable. But I wanted to take a moment to critically reflect on it… I love Red Table Talk and I love what the Smiths' have done with it," she began.
"I think my error was, I had so much I wanted to say to the Smiths'… So when I said I was looking forward to more Red Table Talk and entanglements, I thought that was funny, but out of context, without a deeper context, people have obviously read it. My intent was not to mock or make fun of but obviously there is a difference between intent and impact."
She continued, letting her followers know this is not an apology video, rather an invitation to have a different perspective.
"I did not apologize, I am contextualizing," the Emmy-nominated host shared.
"This is not an apology. If the Smiths need an apology from me, I'll find out privately and I'll do it privately. This isn't an apology, this is a love letter to them."
Do you agree with Laverne's stance on the matter?