See Porsha Williams After She Shaved Her Head
Her stylist Kellon Deryck is spilling ALL the tea behind her late night chop!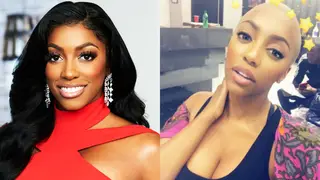 Looks like Sanaa Lathan is inspiring all the girls to let go of their lengthy locks. The first to participate, Real Housewives of Atlanta's Porsha Williams, who hit the 'gram last night to reveal a shocking new look.
Hold on to your weaves, wigs and everything else ladies (and gents!), the change is pretty drastic!
We couldn't believe that Porsha would chop off her signature locks on impulse, so we hit up her stylist Kellon Deryck to get the full scoop.
"Surprise! Porsha did not cut her hair off! This is a part of the process to install her fabulous wigs!" he shared. "This is actually a stocking cap that matches her skin."
"This technique is part of my #flawlessillusion technique to make wigs look like they are growing from the scalp. Her hair is braided underneath the cap that is customized to replicate a natural scalp! It's the best way to make your hair unit completely undetectable," he added.
Say what? She definitely had us fooled. We thought it was Friday the 13th not April Fools!  
"This was prep for the ponytail wig that we installed for her stage play that starts this weekend, Two Can Play That Game. She is playing Gabrielle Union's role, Connie, and in the movie she had a long ponytail. [All of] this was prep for the ponytail wig that we installed."
Clearly the Georgia peach wasn't ready to risk it all just yet. But if she did, she'd still be a baddie in our book!