Bobbi Kristina's Aunt Slams Nick Gordon and Pat Houston
Plus, a cousin says Gordon is being exploited.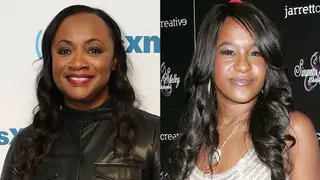 In the midst of Bobbi Kristina Brown's dire medical state, members of both sides of her family seem to be at odds. Her aunt, Leola Brown, is accusing the young scion's boyfriend, Nick Gordon, of pushing her to her current state and is even blaming Pat Houston for being an opportunist when Brown needed her the most.
According to TMZ, Leola claims to know for a fact that Gordon contributed in some way to Bobbi Kristina's demise, calling him "guilty" and attention-hungry in the process. She even cited Gordon's dramatic Dr. Phil interview as proof that he is manipulating the media for his benefit.
"I think that it was someone's intention to put her where she is right now," she told TMZ. "I believe that Nick is manipulating Dr. Phil just like he manipulated my niece... You can clearly see what he's doing in the public's eye. His actions speak for [themselves]."
Not all of the Brown family is against Gordon, however. People.com reports that Bobbi Kristina's cousin, Jerod Brown, recently came to his defense, saying in a Facebook post that he willingly cooperated with the police as they investigated the bathtub incident. 
Bobby Brown's outspoken sister is clearly not fond of Gordon. She also does not favor her sister-in-law Pat Houston, even refusing to acknowledge her as such. "Pat Houston is not my in-law," she said. "I do not have any respect what so ever for Pat Houston, and her name is not Pat Houston to me. Her name is Pat Garland. Pat is a manipulator from the door. She has never ever earned my trust."
Elaborating on her gripe with Houston, Leola held no punches, especially in relation to Bobbi Kristina's health. "My belief is that Pat Houston has a lot to do with it," she said. "Whether it be her actual hand, I can't say that right now, and I hold her accountable for what happened to my niece, Bobbi Kristina, because of what knowledge I have of her."
She also went on to debunk the claims made by Pat that she and Whitney Houston were close prior to her passing, saying that she and the "Greatest Love of All" singer were not close at all. "That's a big lie that she's told in the media," she said.
Leaving no doubt that her distaste for Pat Houston was beyond repair, Leola explained that she was ultimately upset at the fact that the iconic singer's former manager forced a broken Bobbi Kristina into the spotlight immediately following her mother's passing.
"I was so upset that Miss Pat would throw my niece on a reality show at the time of her mother's death," she said. "Bobbi Kristina never had a chance to mourn her mother. She never had a chance to heal."
Before signing off, a clearly riled up Leola addressed Pat Houston directly, further solidifying her thoughts that she is nothing more than opportunistic at heart. "Why did you not worry about getting her some help?" she said. "I know why. Because you're a money hungry beast, Pat."
Check out the video of Leola Brown in full below.
BET.com is your #1 source for Black celebrity news, photos, exclusive videos and all the latest in the world of hip hop and R&B music.
Click here to subscribe to our newsletter.
(Photos from left: Andrew Toth/Getty Images for SiriusXM, Jim Spellman/WireImage)