So Sad: Pregnant Keke Wyatt Reveals Her Husband Wants A Divorce In Emotional Video
The singer is currently carrying their ninth child.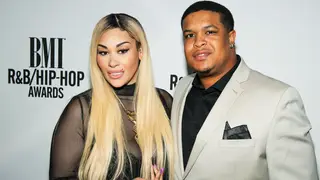 Keke Wyatt is currently in the middle of her eighth pregnancy with her and her husband Michael Jamar's ninth child, and while this should serve as a joyous and worry-free moment for the expectant mother, it's anything but. 
The singer recently took to social media to reveal to her followers and fans that Jamar, her husband of seven years, asked her for a divorce.
The former R&B Divas star said in the video that not only does Jamar want a divorce, but he is also going around telling her friends and family not to speak to her.
Looking visibly distraught in the clip, she said that she is "done" with her husband after he said he wants to bail on their marriage, especially after they've had all of these children together. 
She claims he called her an "emotional wreck" that he can no longer put up with.
Watch her tearfully explain the situation, below:
The couple's marriage has been anything but smooth lately, with them even resorting to joining the cast of Marriage Bootcamp: Reality Stars, last year, to get help. 
Watch her talk about her family and hubby in the Wendy Williams clip, above.