Ciara Pens Open Letter About Cyber Bullies
The singer says anonymity gives people "false sense of empowerment."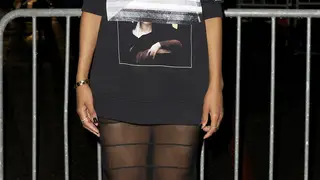 Ciara is taking a moment to address the cyber bullies who leave nasty comments on blog posts or use their anonymity and "false sense of power" to really tear some people down. In an open letter written on her blog, the singer said that the negativity in social media has turned her off of visiting some blogs because, instead of sharing good stories, they're just stirring up drama.
"People sure do have a lot of courage when they are anonymous. It's like a 'Who Can Say the Nastiest Comment Game.' I click onto some of the comments from something as fun as an Instagram post that you're sharing with your fans, and a person finds a way to turn a positive post into a negative. I think to myself, 'I could pick this person apart so bad but what for? Why act ugly like them?' It honestly takes the fun out of it when people seem so miserable," she wrote.
"If only they could channel their energy towards positivity, it could make a difference in their own life as well as influence others," Ciara continued. "It's kind of scary for the kids coming up, because even if a parent doesn't allow their kids to have blog site access at home, they may still have access at school or other places. It's now almost impossible to protect your kids from the vile things people say on blog sites today, and it's even worse when kids hear hurtful things about themselves, their parents or other family members. In some cases kids have even resorted to suicide due to 'cyber-bullying.'"
She's right. It's such a tragedy when news surfaces of someone so young committing suicide because his or her peers kept pushing and pushing those buttons. And with social media being such a part of our daily lives, it's a tactic that doesn't just occur on the school grounds anymore nor does it stop once you enter into adulthood.
BET.com always gives you the latest fashion and beauty trends, tips and news. We are committed to bringing you the best of Black lifestyle and celebrity culture.
(Photo: Allpix/Splash News)