Lil Cease Apologized To Lil Kim At Biggie's Birthday Dinner, And Fans Are Breaking Down In Tears
The Queen Bee hosted the first annual tribute dinner, where she also unveiled her new album cover.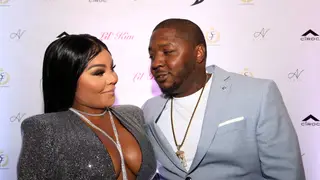 Another rap beef has been laid to rest, as Lil Kim, Lil' Cease and the whole Junior M.A.F.I.A. put their issues to the side at last night's birthday dinner honoring the late Notorious B.I.G.
Tuesday  (May 21) was the first annual "Biggie Dinner," honoring what would've been the rap icon's 47th birthday. The NYC dinner, hosted by Lil Kim, was sure to bring out some recognizable faces, including rappers Fat Joe and Fabolous, who both offered up a few words in honor of the late hip-hop legend. "Everyone who is here is connected to Biggie in some way," Kim said in her pre-dinner toast.
Perhaps most memorable of all moments was the reunion between Kim and her former Junior M.A.F.I.A. clique, primarily Lil' Cease.
During dinner, Cease took a moment to speak a few words to his "sister" Kim, including a heartfelt apology which resulted in the two hugging it out.

"[For] making you feel bad, I genuinely apologize, I love you from the bottom of my heart," the former M.A.F.I.A. rapper told Kim during a speech at the dinner table. "You are my sister." Cease continued, "You're not my real sister, but you're my sister for life. And I love you. For life. And thank you... And I mean that from the bottom of my heart, like for real."


The reconciliation between the rappers comes nearly after a decade-and-a-half long feud between Kim, Cease and former M.A.F.I.A. member Larceny.

Back in 2005, the Hardcore rap icon was sentenced to a little over a year in jail and fined $50,000 for perjury after her courtroom admission that she'd lied to a grand jury about her involvement in a 2001 shootout outside of a New York radio station. 

Cease, who claimed to not have been on the best of terms with Kim around the time of her trial, testified against his "Crush on You," partner-in-rhyme, a move Kim later addressed in her 2005 album, The Naked Truth. Fast forward to nearly 15 years later, and love is now restored between the two and the entire Junior M.A.F.I.A. clique for the greater good of hip-hop.

Towards the end of the epic evening, Kim also debuted the album cover for her upcoming album, 9, her first studio release in nearly 14 years. In true Kimmy Blanco fashion, the artist is seen donning a crown-inspired hairdo fit for a Queen Bee, with a Louis Vuitton "LV" monogrammed hair pun.

9 will be the fifth studio album from the Queen Bee and is slated for release May 24.