Tracee Ellis Ross' Women's History Month Playlist is Pure "I Am Woman" Vibes
The 'Black-ish' star shares healing and hope with her latest TIDAL exclusive playlist.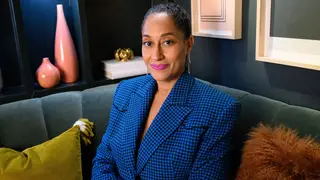 During this year's Women's History Month celebration, TIDAL has enlisted the talents of Tracee Ellis Ross to champion how women artists have shaped and evolved different styles of music.

A musician herself, Ross has titled her TIDAL exclusive playlist, Tracee Ellis Ross: Providing Healing, Promoting Hope, which features pioneers and purveyors of music that have moved the needle when it comes to impacting our lives and the music industry.

In an exclusive quote shared to BET.com from Ms. Ross, the Black-ish star shares why this Women's History Month playlist is especially important to her. 
"As we transition from Black History Month to Women's History Month, it's more important than ever for Black women to make the space to both heal and hope. The songs on this playlist, including my new single with Pattern Beauty entitled 'Legacy,' are meant to offer solace and inspiration, to connect us to our strength and power, and remind us that we are worth and enough just as we are."

A full collection of Women's History Month-curated content can be found here, as the popular music streaming service is intent on commemorating the different ways that women continue to elevate the game to new heights. 
From Pioneers to Decades, there is a host of music that will be released each week surrounding a specific theme happening during Women's History Month.
You can listen to Tracee's inspirational and motivating song picks here.