Andra Day: 5 Things To Know About The Leading Lady From 'The United States Vs. Billie Holiday'
If you only knew her for her voice, be prepared to be mesmerized by the Golden Globe nominated actress!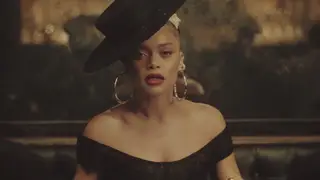 You may or may not know Grammy-nominated singer Andra Day from her 2015 breakout single "Rise Up" from her first album Cheers to the Fall but her recent major movie role "The United States v. Billie Holiday" has just about everyone in Hollywood buzzing! 
The Hulu film premieres on Friday (Feb. 26) as it rips off the band-aid sealing a story of hurt, pain, abuse, and loss absorbed by the legendary singer Billie Holiday. The movie specifically follows Holiday's connection to the Federal Bureau of Narcotics after they launched an undercover sting operation targeting the jazz singer and her illegal drug use. 
Day has already been nominated for a 2021 Golden Globe for Best Actress for her performance in the Lee Daniels screenplay and with her sure-fire commitment and execution in the latest movie biopic, the 36-year-old is clearly just getting started. 
Here are five things you may not know about the fresh talent that has entered Black Hollywood.
Andra Day is not her real name.

Born on Dec. 30, 1984, Day's government name is Cassandra Monique Batie. The singer, songwriter and actress grew up in San Diego California and first started singing gospel music at First United Methodist Church in Chula Vista, California. In 2003, she graduated from San Diego School of Creative and Performing Arts in Paradise Hills.

She considers Questlove and James from The Roots as her brothers

A surprise phone call from Stevie Wonder changed her life.

Wonder first discovered Day thanks to his ex-wife Kai Millard Morris who came across the songstress in a video clip as Day sang in front of a strip mall in Malibu, California. Wonder was compelled to call the budding artist to see if she might be interested in collaborating with him and the rest as they say is history!

"I was so nervous," she said to the Associated Press."I kept saying to myself that he's just a regular person. But in the same breath, I was saying, 'He's a legend.' I felt like a meteor hit my house. It inspired me to keep pushing."

To become Billie Holiday she had to push herself out of her comfort zone.

Day shared that she went to great lengths to make the role of the jazz singer authentically come to life. She even started drinking and smoking cigarettes to get into the role, two things she had never done previously. She also sat with heroin addicts on the streets and in recovery as a part of her research for the part. To make the role become even more believable the actress shed 40 pounds and admitted to often starving herself to get the desired weight of 124 pounds.

She reps Delta Sigma Theta Sorority, Incorporated.

Inducted in 2019 as an honorary member, Day is a member of the New Orleans Alumnae chapter.