Louisville Ex-Cop Involved In Breonna Taylor Death Found Not Guilty Of Wanton Endangerment
Jurors deliberated for only three hours, a day after Brett Hankison wept on the witness stand about the incident. But the case wasn't about Taylor's death.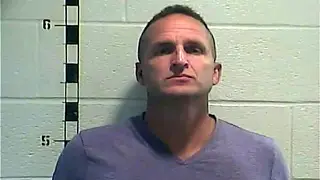 A jury on Thursday (March 3) found former Louisville Metro Police detective Brett Hankison not guilty of wanton endangerment.
After deliberating for about three hours, they cleared the only officer involved in the botched raid of Breonna Taylor's apartment two years ago to face charges, the Louisville Courier-Journal reports.
Hankison, however, wasn't on trial for Taylor's death. He was charged with three counts of first-degree wanton endangerment from firing 10 shots blindly that went into the apartment of Taylor's neighbor. Prosecutors argued that it endangered the lives of a man, his pregnant girlfriend and their 5-year-old son who were asleep. Hankison had pleaded not guilty.
On March 13, 2020, Taylor, a 26-year-old EMT worker, was at her apartment, which she shared with boyfriend Kenneth Walker, when just before 1:00 a.m., police rammed down her door, using a no-knock warrant.
Walker, believing intruders were breaking in, grabbed his firearm, which he legally owned, and fired, wounding former officer Jonathan Mattingly. Hankison, Mattingly and former officer Myles Cosgrove returned fire, striking Taylor six times, killing her.
Taylor's family maintains police never announced themselves, while officers say they did.
The raid was an attempt to arrest her ex-boyfriend, Jamarcus Glover, who was already in custody. No drugs were ever found on the premises.
Civil rights attorney Ben Crump issued a statement about the acquittal saying, "This verdict is further evidence of the lack of police accountability. The fact that Brett Hankinson was not even charged for Breonna Taylor's killing and only faced charges for the wanton endangerment of her white neighbors was a slap in the face for Breonna and her family. The lack of accountability showcased in every aspect of Breonna's killing speaks to how much more work there is to be done before we can say our justice system is fair and our system of policing is protective of people of color. We demand real police reform, including a federal ban of no-knock warrants and improved training for law enforcement officers. Until we achieve those reforms, we cannot sleep safely in our own homes."
On Wednesday (March 2), Hankison, 45, testified, at times in tears, that he fired his weapon to defend himself and the two other officers. "She didn't need to die that night," he said from the witness stand, Yahoo! News reports, which prompted Taylor's mother, Tamika Palmer, to walk out the courtroom.
But this case was about what Hankison's gunfire caused in a neighboring apartment.
On Feb. 23, Taylor's neighbor, Cody Etherton, 29, testified at the trial that Hankison and the other officers were "reckless" and "unorganized" in their raid on Taylor's apartment. He was the first of 26 witnesses called by the prosecutor.
On the witness stand, Etherton recalled hearing a "loud boom" that awoke him and his girlfriend  Chelsey Napper. Thinking it was a home invasion, Etherton jumped out of bed and walked down the hallway, as "debris started going past my head and face" from gunfire. Etherton stated that he heard the police announce themselves only after the gunfire ended, which the police dispute.
Etherton testified that he went outside and noticed his sliding back patio door was shattered and officers shining lights in his direction. That led him to believe that the police thought his patio door was Taylor's.
From the witness stand, Hankison defended his actions. He testified that Mattingly was shot in the dark by someone in the apartment when the team of cops rammed down Taylor's door to execute a search warrant. He believed that someone was attempting to gun down the officers as they tried to help Mattingly.
"I knew they were trying to get to him, and it appeared to me they were being executed with this rifle. I returned fire through the sliding glass door, and that did not stop the threat," Hankison testified.
Hankison's attorney, Stew Mathews, said the ex-officer's actions were similar to first responders running toward the Twin Towers on September 11, the Courier-Journal reported.
"They run towards the danger, and that's what Brett Hankison did here," Mathews said.
The jurors, comprised of eight men and four women, received the case for deliberation around noon on Thursday following five days of testimony. After handing down the verdict, the judge told Hankison that he was free to leave.