Chicago Police Probe Announced; No Charges in 2nd Shooting
A Chicago police officer will not be charged in the shooting of a 25-year-old black man who authorities said was armed with a gun as he ran away from officers, prosecutors announced Monday, the same day the U.S. Justice Department opened an investigation into patterns of racial disparity in the use of force by Chicago police.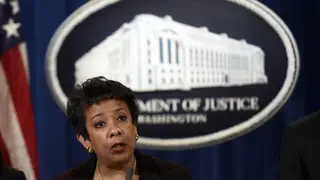 CHICAGO (AP) — A Chicago police officer will not be charged in the shooting of a 25-year-old black man who authorities said was armed with a gun as he ran away from officers, prosecutors announced Monday, the same day the U.S. Justice Department opened an investigation into patterns of racial disparity in the use of force by Chicago police.
The investigation, announced by U.S. Attorney General Loretta Lynch, comes nearly two weeks after the release of a video showing a white Chicago police officer shooting a black teenager 16 times.
The federal investigation, which is separate from an existing federal investigation into last year's shooting death of 17-year-old Laquan McDonald, also will review how the department disciplines officers and handles misconduct accusations. Justice Department officials say they use such patterns-and-practices investigations to identify systemic failings in troubled police departments and to improve trust between police and the communities they serve.
"This mistrust from members of the community makes it more difficult to gain help within investigations, to encourage the victims and the witnesses of crime to speak up and to fulfill the most basic responsibilities of public safety officials," Lynch said. "And when suspicion and hostility is allowed to fester, it can erupt into unrest."
The civil rights probe follows recent ones in Baltimore and Ferguson, Missouri, and comes as the police department and Mayor Rahm Emanuel are under intense scrutiny over their handling of the October 2014 death of McDonald. Officer Jason Van Dyke was charged with first-degree murder Nov. 24, more than a year after the killing and just hours before the release of police dashboard camera footage showing the officer shooting the teenager.
Emanuel, who initially said a federal civil rights investigation would be "misguided" but later reversed course, said in a news release after Lynch's announcement that his goal is to create a stronger and better police force "that keeps the community safe while respecting the civil rights of every Chicagoan."
Also Monday, Cook County State's Attorney Anita Alvarez said there would be no charges against Officer George Hernandez in the shooting of 25-year-old Ronald Johnson, whom authorities say pointed a gun at police before he was killed on Oct. 12, 2014.
Alvarez and Assistant State's Attorney Lynn McCarthy spent more than 30 minutes detailing evidence before showing the video, which similarly to the McDonald case has no dashcam audio; the state's attorney's office overlaid police radio communications. The video showed Johnson running from police across a street with several officers in pursuit, and then one officer shooting. Johnson is not on screen when he was struck by two bullets.
The video was also slowed down to show what McCarthy said was a gun in Johnson's hand; prosecutors say a loaded weapon was found in his hand after he was killed. She also said Johnson "ignored" officers' commands to stop and drop his weapon and had been in a physical altercation with at least one other officer before he was shot.
"We're in different times right now when we're talking about transparency and what the public wants to see," Alvarez said after showing the video of the shooting. "I have pretty much opened the door here."
The attorney for the Johnson family, Michael Oppenheimer, says prosecutors' investigation was a "joke" and an affront to Johnson's family and Cook County citizens.
When asked why there was no audio on this video and others, Alvarez said: "That's a problem for theChicago police department and I think they need to answer to that. ... Time and time again we look at these videos and there is not any audio."
Alvarez has been criticized for not filing charges earlier in the McDonald case, in which the video shows the teen veering away from officers on a four-lane street when Van Dyke, seconds after exiting his squad car, opens fire from close range. The officer continues shooting after McDonald crumples to the ground and is barely moving.
The Chicago City Council signed off on a $5 million settlement with McDonald's family even before the family filed a lawsuit, and city officials fought in court for months to keep the video from being released publicly. The city's early efforts to suppress its release coincided with Emanuel's re-election campaign, when the mayor was seeking African-American votes in a tight race.
Since the release of the McDonald video, Emanuel forced Police Superintendent Garry McCarthy to resign and formed a task force to examine the police department. But protesters' calls for the mayor to resign — something he said he won't do — have grown louder.
Politicians, including Democratic presidential candidate Hillary Clinton and Illinois Attorney General Lisa Madigan, called for the federal civil rights investigation. The Rev. Jesse Jackson said he hopes it would focus not only on the police department, but on Emanuel's office and the Cook County State's Attorney's office.
"All three of them — the police, City Hall and the prosecutor's office — are suspect," Jackson said. "We cannot trust them."
The Justice Department has opened 23 investigations of police departments since the start of the Obama administration. If the Justice Department finds systemic violations, the investigations typically result in court-enforceable agreements between the federal government and the community that serve as blueprints for change and are overseen by an independent monitor. The federal government has the option of suing a police department that is unwilling to make changes.
Emanuel will speak Monday afternoon on police accountability with interim Chicago Police Superintendent John Escalante and the new head of the Independent Police Review Authority, a city agency that investigates police cases. The mayor's office announced late Sunday that the former head of that agency, Scott Ando, had resigned effective immediately. Ando will be replaced by Sharon Fairley, general counsel and first deputy of the city's Office of the Inspector General and a former assistant U.S. attorney.
Chicago police released hundreds of pages Friday in the McDonald case that show police officers reported a very different version of the encounter than the video shows, portraying McDonald as being more menacing than he appears in dashcam footage. That further angered activists and protesters, who were already accusing the city of a cover-up.
Emanuel acknowledged "the checkered history of misconduct in the Chicago Police Department" in an opinion column published in the Chicago Sun-Times and Chicago Tribune. "Chicago is facing a defining moment ... To meet this moment, we need to conduct a painful but honest reckoning of what went wrong — not just in one instance, but over decades," he wrote.
The University of Chicago said last month that an analysis by its civil rights and police accountability clinic found of 56,000 complaints against Chicago police — but only a fraction led to disciplinary action. And of 409 shootings involving Chicago police since September 2007, only two have led to allegations against an officer being found credible, the Chicago Tribune reported, citing data from the Independent Police Review Authority.
BET National News - Keep up to date with breaking news stories from around the nation, including headlines from the hip hop and entertainment world.

(Photo: Susan Walsh/AP PHOTO)